WHAT IS IT:
Biotherm's Biosource Tonifying Exfoliating Cleansing Gel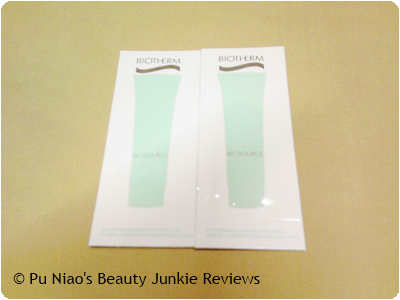 THE PRODUCT(S):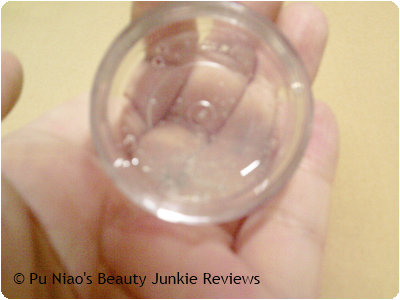 Biosource Tonifying Exfoliating Cleansing Gel:
With a crystal-clear gel texture containing exfoliating micro-beads. Helps mildly slough away dead skin cells & prepare skin for hydration. Formulated with balancing Zinc to promote skin regeneration. Combats free radicals responsible for premature skin aging. Leaves skin clear & revitalized. Perfect for normal & combination skin.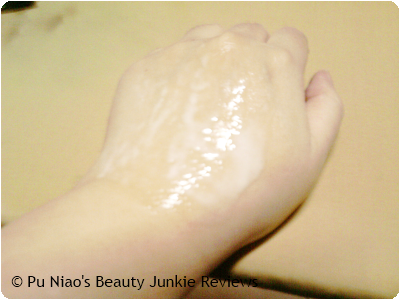 It suds rather well, but the micro-beads are so tiny and small I don't feel any exfoliation on my face at all. And the scent is rather strong, so I was expecting it to be better, in terms of exfoliating wise.
VERDICT:
First and foremost, upon opening up my 2 sample sachets and transferring them to reusable pots, the scent wasn't strong initially. It only seems that way when you are close enough to sniff it. However, the good part is that the scent of this
Tonifying Exfoliating Cleansing Gel
doesn't turn you off nor make you feel nauseous after a while, which is good news. And also upon closer inspection, I can see that there are really tiny and minuscule micro-beads, which are meant for facial exfoliation purposes.
However, that's where this product goes rather wrong from here. Despite the fact that the scent could be addicting to some, it suds well and is an exfoliating cleanser, I kinda find a few disappointments with it. Namely the exfoliating part. No matter how big or small the micro-beads are, one should be able to at least somehow feel the micro-beads working on your face upon using it. But not with this, it just feels as if it's a normal facial cleanser gel that I can buy anywhere. Luckily, I am trying out the sample sachets instead of buying the actual retail size, or I would be genuinely upset to realize that there's not much "exfoliating" at all.
Not saying that the micro-beads in facial exfoliating cleansers should be huge like rice-balls. I understand that smaller micro-beads meant that our face will be exfoliated gently without hurting our skin, however, the micro-beads in this
Biosource Tonifying Exfoliating Cleansing Gel
are really so tiny that personally, I don't really feel nor see the effects of facial exfoliating at all. Not even after 2 washes. It's almost like, the existence of the micro-beads in this facial gel is just for show
Despite it being suitable for
Normal/Combination Skin
, I find that it still suits skin that aren't too oily too. Despite not having an exfoliating witnessed on my skin, what I do like about this
Tonifying Exfoliating Cleansing Gel
is that it cleans rather well, suds decently and washed off easily too. And after usage, I can see my skin looking and feeling cleaned and refreshed instantly. Besides, my face doesn't look oily nor greasy despite hours after using this to cleanse my face. I t actually does get rid of excess sebum without making my face/skin feels over-drying not over-taut at all.
What I personally find to be a shame is that the samples given were just a tad too few. Even if Biotherm is stingy and doesn't feel like giving out a full weeks trial, they should consider letting interested fans redeemed half a week's trial. I have only 2 sachets of the exfoliating cleanser, in which case, 1 sachet is good for exactly 1 day's usage. The toner samples are pretty much the same too, 1 sachte exactly for 1 day's usage too. However, 1 sample sachet of the facial moisturizer a.k.a facial getl is enough to last 2-3 days, if applied in a very thin layer. Which I think is rather contradicting, considering not all of our faces are as long as Sarah Jessica Parker. Therefore we do not need that much gel, as compared to the paltry amount for the cleanser and toner.
VERDICT:
✓
WHAT I THINK:
For the price of 1 tube of
Biosource Tonifying Exfoliating Cleansing Gel
, I can probably buy another better exfoliating cleanser at the same price, or even 2 T-Zone Exfoliating Daily Wash for the same price with better exfoliating results.
WHERE TO REDEEM SAMPLE:
First, go over to
http://www.biothermsg.com/jul2012/femme.php
. Next, click on the Get A Sample link. After that, fill in your Name, Mobile Number and Email Address. If all goes well, you should get a SMS on your mobile phone at approximately 8:00 AM the next morning.
I previously redeemed this sample together with the Biotherm
Aquasource Nuit
, hence, I recommend only going for redemption if you have something else to redeem at Orchard as well, such as the The Body Shop's Surprise Gift Card for the "Make a Gingerbread Man" app.