WHAT IS IT:
L'oreal Lucent Magique BB Cream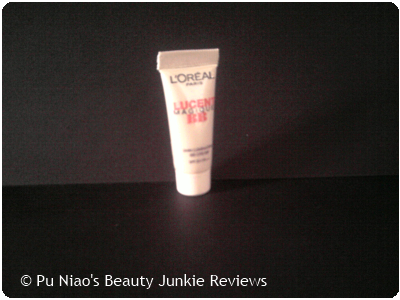 THE PRODUCT(S):
L'oreal Lucent Magique BB Cream:
The 1st skin luminating BB cream with intuitive BB capsules that magically transforms skin for an enlivened lit-from-within complexion. The innovative self-evolving texture debuts as a moist milky-white cream, infused with intuitive BB capsules that encapsulates exclusive skin-perfecting pigments. upon blending with the skin. The fresh cream intuitively evolves into a naturally lucent skin tone coverage specific for asian skin tones. A new generation of BB end-look Skin is magically enlivened, transformed, Diffusing a Lit-from-within complexion Use as last step to skincare or layer before foundation.
Feel it BLEND on your skin innovative capsule technology Each micro-sphere has a double coating that keeps the skin-perfecting pigments fresh until application, so you only get the most radiant complexion. Skin-perfecting pigments These exclusive pigments evens skin tone and texture to get a perfected softly radiant coverage. Blend it on your skin and feel the micro capsules slowly melt to reveal an even finish.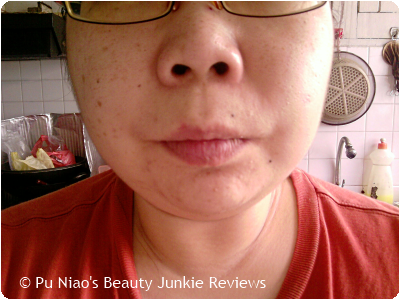 This is my face
BEFORE
applying
L'oreal Lucent Magique BB Cream
.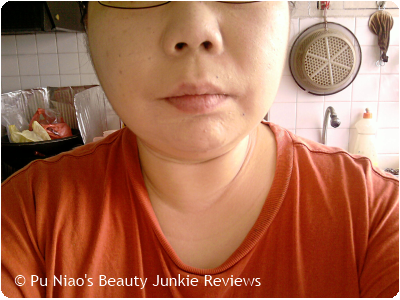 And this is my face
AFTER
applying
L'oreal Lucent Magique BB Cream
.
VERDICT:
Well, like most BB Cream, the scent is decidedly of cosmetic. So, not much of a hoo-ha here. The color of the BB Cream is actually milky white in color, unlike the regular flesh-colored BB Creams we are so used to seeing. Maybe it's because it's a luminating BB Cream, hence having it in flesh-colored is rather out of the question. The texture and consistency is actually really smooth despite being thick, making application a breeze too as it isn't too runny nor watery at all.
As I have some old blemish scars on my face, so I was a little hesitant and unsure whether this
L'oreal Lucent Magique BB Cream
would be able to at least partially cover up or somehow lighten up the blemish scars on my face. and surprisingly, it actually does the job, although not 100%. But well, if there's any BB Cream that actually covers up all our facial flaws, that would have sound too good to be true, don't you think so? From a distance, your face looks rather perfect and flawless, and only from a close distance will you actually get to see a little blemish and pigmentation "peeking" through.
However, I personally don't think this
L'oreal Lucent Magique BB Cream
is really long-lasting in my own opinion. In fact, it may not hold up to at least a decent 6 hours at all. I started sweating a little and used a tissue to dab at my sweat, not wipe it and was a little shocked to see the BB Cream coming off and smearing the tissue paper. And get this straight! I
dab
and was really careful to literally dab a little here and there. And because my face is of the oily variety, I see blotches and patches of sebum underneath a layer of BB Cream.
And as mentioned, my blemish scars are quite old, so I had to squeeze out a little more than usual and layer it on to try and totally cover up the blemish scars. And I personally think that one shouldn't have to layer on any BB Cream to cover any flaws at all. One layer should have done the trick, and anything that requires you to have more than 2 layers, it's probably not suitable for our skin tone, type, blemish scars and what-nots. That is just too much trouble to have to undergo just for the sake of covering up facial flaws.
Despite all the cons, the pro is that, upon application, my face nor my pores doesn't feel clogged. In fact, it felt as if I am applying on a layer of moisturizer instead of a BB Cream. If I touched my face with my bare fingers, I don't really feel the existence of BB Cream on my skin. But if I so much as use a tissue paper, it actually comes right off immediately. So, it's rather a plus and minus on this
L'oreal Lucent Magique BB Cream
, it has it's good and at the same time, it has it's bad as well.
And for the record,
nope
, my face didn't look "illuminated" at all, despite the product claiming that it can do so. Perhaps the illuminating part doesn't really work on someone with a pale complexion, I suppose.
VERDICT:
✓✓
WHAT I THINK:
Best suitable for someone who has really light to no blemish scars, pigmentation and so on. And especially if you are working in a really cold condition, such as working in an air-conditioned room that is set to turn you into a human popsicle.
WHERE TO REDEEM SAMPLE:
I previously got this sample from
L'Oreal Paris Facebook page
at
https://www.facebook.com/lorealparissingapore
. Although the samples have been fully redeemed,
L'Oreal Paris
do occasionally have samples of their newest, latest released product up for grabs for their fans. So, I'd recommend going over to
L'Oreal Paris Facebook page
at
https://www.facebook.com/lorealparissingapore
and
Like
their page to be informed of latest giveaways.
Why not like my Facebook page at https://www.facebook.com/PuNiaosProductReviews to be informed of latest samples I found, which is duly updated? Also includes updates to contests that I've sourced out for you to join. It will definitely save you the trouble of having to hunt them down :)