WHAT IS IT:
TBS Tea Tree Products & Pore Minimizer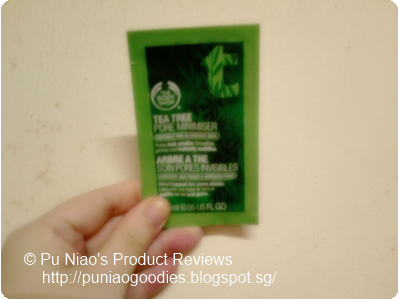 THE PRODUCT(S):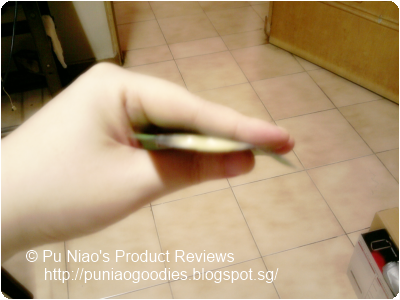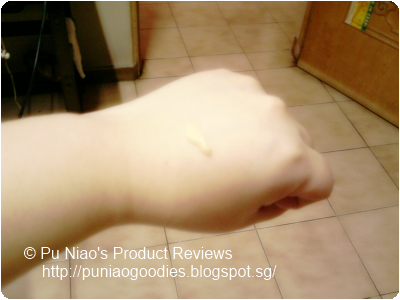 The Body Shop Pore Minimizer:
This new Tea Tree Pore Minimiser makes pores look smaller. Infused with Community Fair Trade organic tea tree oil, it smoothes, primes and mattifies, and leaves skin feeling fresh and pure.
VERDICT:
So, I went down to the regular TBS outlet at Bukit Panjang Plaza where I am a regular customer for years already and their friendly staffs gave me a sample satchet of their latest product,
Tea Tree Pore Minimizer
to try out. They were even patient enough to explain that they could only give out 1 sample satchet per customer, how else can I be upset when they are so patient?
So, I went home and since it was already late in the evening, I felt it was rather pointless to apply it at night. We don't really sweat buckets when we sleep if we switched on our air-conditioner or electric fan. I waited until the next morning when I woke up, took a shower, washed my face, etc etc. I applied it sparingly as I have previously mentioned in some of my earlier posts. 1 sample satchet is enough for roughly 1.5 days use, but when used sparingly and evenly can be used for 2 days straight.
Like all other Tea Tree products under
The Body Shop
belt, this one gets absorbed into my skin rather fast. And despite hours after application (probably less than 1 hour's time of sweating, but not so profusely), my face doesn't feel greasy nor oily. My eyesight is kinda bad anyways, and I'm not sure if I did saw my pores getting smaller. But what I dare assure is that, prior to using the sample satchet of Tea Tree Pore Minizer, my face can get pretty wet after a short amount of time under the sun.
But after using the Tea Tree Pore Minimizer sample satchet, I did noticed that my face wasn't as "drenched" as before. Of course, wonderful products like these have to used on a daily and permanent basis, not only to see results but also to maintain your skin's (or body's) current condition and prevent nasties like acnes from coming up.
Best applied after cleanser, toner and moisturiser to give an instant confidence boost.
PRODUCT RATING:
✓✓✓
WHAT I THINK:
Bliss~
WHERE TO REDEEM A SAMPLE:
Pop by any
The Body Shop
outlets in Singapore and approach any of their SA's for a sample satchet. Remember, a little goes a long way. There's no need to ask for more than 2 sample satchets when 1 is enough to last for 1.5 - 2 days.
WHAT IS IT:
TBS Various Tea Tree Facial Products
THE PRODUCTS:


Tea Tree Skin Clearing Foaming Cleanser

Tea Tree Blackhead Exfoliating Wash

Tea Tree Clearing Toner

Tea Tree Skin Clearing Lotion

Tea Tree Blemish Night Fade Lotion

Before we look at the products, here's a detailed explanation at how acnes develop on our skin (and back for the unfortunate ones):




Every day our body produces sebum (oil) to keep skin supple. How much sebum we produce is regulated by several factors, including hormones. Oil on the skin's surface can cause dead skin cells to stick together and clog pores.




When pores are clogged, oil can build up behind the blockage. This is the ideal environment for spot-causing bacteria to gather.




The clogged pores, build-up of oil and growth of bacteria combine to form a spot.
Source:
http://www.thebodyshop.com.sg/en/Index.aspx


Tea Tree Skin Clearing Foaming Facial Cleanser
A refreshing instant foaming cleanser to gently but effectively cleanse the skin, removing make-up, dirt and impurities. Regular use helps keep skin blemish free, refreshed and calm.


Tea Tree Blackhead Exfoliating Wash
An everyday creamy facial wash, perfect for anyone with skin displaying a build-up of blackheads. Use it everyday to help unclog pores, gently exfoliating to remove trapped dirt, oil and dead skin cells, so your skin can be blemish-free, look invigorated, clear, clean and beautifully smooth.


Tea Tree Skin Clearing Toner
Features a new 'shake to activate' refreshing formula to effectively tone the skin, remove traces of impurities while leaving skin looking matte and without drying out your skin.


Tea Tree Skin Clearing Lotion
A beautifully light and moisturising lotion that sinks into the skin to hydrate and help clear and prevent blemishes. This lotion also contains powders for shine control. Skin appears matte.


Tea Tree Blemish Fade Night Lotion
Improve the appearance of blemish-damaged skin, control oiliness and moisturize while you sleep with a light, moisturizing, non-oily lotion that sinks into the skin.


Why Tea Tree Products?

Tea Tree Products Superhero Powers includes:




Organic ingredient that is gentle on skin and non-drying

Soothing

Lightweight and easily absorbed




Triple Blend Superstar
The Tea Tree skin care range is formulated with a potent triple blend of active ingredients that work together




Organic Tea Tree Oil: Used for centuries, tea tree oil is known for its infection fighting properties as well as for soothing and refreshing the skin.






Lemon Tea Tree Oil: An antiseptic ingredient that is known to soothe skin.






Organic Tamanu Oil: Reputed to have an incredible capacity to encourage healthy skin renewal.



Source: http://www.thebodyshop.com.sg/en/Index.aspx

VERDICT:
I probably was one of the lucky ones who never got acne problem during my school years. And this good luck streak continued until I was around 25+ and that's when everything seemed to go downhill. Acnes started popping up on my face, but not with so much ferocity. It's limited to once every couple of months.
Then it got worse, I admit my T-zone isn't particularly oil-free at all although my forehead/eyebrow area seems to be under control. Nose-wise, it's just a little hard work at least twice a week to make it look blackhead-free. Now, the chin. Acnes started popping up on my chin for the past 2 years or so and sometimes, that ugly red angry dot just seems to stay there for weeks on end.
It doesn't dry or clear up, nor does it "ripe" so I can get rid of it and off my face. That was until I convinced my mother to try out
The Body Shop
Eau De Toilette and Eau De Parfum collection and managed to grab hold of the store manager at the outlet I frequented. It was a emotion-wrecking moment as I poured out my acne woes to the poor store manager while she listened patiently.
She suggested I give their
Tea Tree Skin Clearing Foaming Facial Cleanser
and
Tea Tree Face Mask
a try and see how it goes. And she was confident that it can help dimish my acne activity on my face via the cleansing foaming facial cleanser while the face mask literally "cools" the acne that is about to start making "special appearances". Needless to say, I was totally hooked.
My acne cleared up tremendously from daily usage. Their Tea Tree range doesn't make my face oilier than it already was and just leaves it feeling clean and refreshed every single day. So much so, I decided to give their
Tea Tree Blackhead Exfoliating Wash
a try as well, partly because of my over-active blackheads that just won't stay away. Also recommended is the
Tea Tree Blemish Fade Night Lotion
which I religiously applied on my acne blemishes every night before I go to bed.
The
Tea Tree Blackhead Exfoliating Wash
really helps get rid most of my blackheads while the
Tea Tree Blemish Fade Night Lotion
lightens away my blemishes.
PRODUCT(S) RATING:
✓✓✓
WHAT I THINK:
Feels like teen spirit. Literally!
WHERE TO REDEEM A SAMPLE:
Pop by to any
The Body Shop
outlets throughout Singapore and ask their SA's for a sample satchet and give it a try. You won't be disappointed, I promise.
♥ ♥ ♥ ♥ ♥ ♥ ♥ ♥
Vote for me at: https://apps.facebook.com/teatreepower/gallery.php
My username on the gallery is: Pu
♥ ♥ ♥ ♥ ♥ ♥ ♥ ♥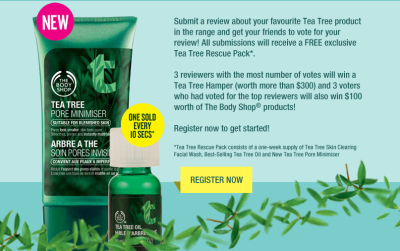 [ This review has been written in conjuction with The Body Shop Singapore current contest: Tea Tree Power ]