WHAT IS IT:
Biotherm Aquasource 24h Deep Hydration Replenishing Gel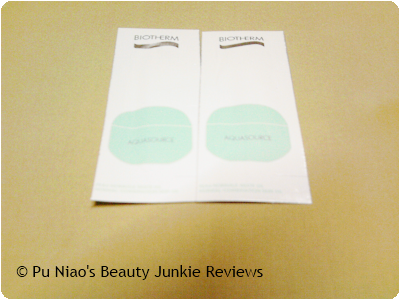 THE PRODUCT(S):
Biotherm Aquasource 24h Deep Hydration Replenishing Gel:
Biotherm AQUASOURCE 24h Deep Hydration Replenishing Gel contains Mannose, an innovative ingredient that goes 5 layers deep for skin hydration. It rapidly has intense hydrating virtue. Each container contains as much ingredients as those contained in 5,000 litres of Thermal Plankton Cellular Water. It instantly and continuously replenishes skin with moisture right into the core of the skin's epidermal layers, leaving the skin hydrated for up to 24 hours, with a healthy radiance, and feeling plump and silky.
This product immediately penetrates the skin, without leaving a greasy film. Besides, it is formulated with cooling ingredients to instantly decrease the temperature of the skin by 2°C. It refreshes, stimulates, and relieves skin irritation caused by dryness.
The scent is strong, but it doesn't put you off. And the concoction is actually a very light bluish-opaque gel.
VERDICT:
The scent for this
Biotherm Aquasource 24h Deep Hydration Replenishing Gel
is rather strong, but thankfully, it doesn't border on nauseousness. It's actually rather refreshing and since it's a 24 hour hydrating gel, it's expected to smell a little "aqua-y". The texture is actually smooth and gentle, although it does take a few more rubs to be fully penetrated and absorbed into my skin. And once applied on my skin, there's a light scent to it, as opposed to the actual strong scent prior to usage.
As this product is best for
Normal to Combination
skin types, I'm sure the penetration and absorption should be slightly better as composed to someone with a semi-oily or oily skin type. I personally like the fact that the gel is cool, when applied on the skin. No doubt, the cooling sensation will be better if this gel is actually stored in the chiller compartment for long-term. The consistency and texture when using is actually just right. It isn't too watery that you are unable to scoop anything out. And yet neither too thick, even for
Normal to Combination
skin types too. Although the sucky part is whether the actual retail version comes with a spatula or not?
While on the other hand, I thought the overbearing scent was a tad too unnecessary. Maybe it's because of the fact that this is a hydrating gel, which could be the issue. But personally in my opinion, there's no need to go overboard on the scent/fragrance if the product is a winning formula. Possibly, Biotherm may have expected consumers to literally sniff this gel prior to usage, every single time so as to give the impression that it is a good hydrating product for our skin.
And despite being touted as a
24 hour deep hydrating replenishing gel
, the so-called hydration effect actually only lasts for a really short while. Or as far as the naked eye can observe. When I applied it to my skin in front of a mirror, I did see my skin looking somewhat more moisturized and hydrated. But less than 4 hours into the evening, my skin was back to looking the same as it previously did before. It's as if the product, upon application, just hydrated the surface of my skin. Never once working itself all the way down beyond the epidermis. As stated on the product packaging, the hydration is 5 layers deep, but I feel the hydration on the surface only.
Although the good part is that, after a few days (and nights) of constantly using this, I am pretty glad to announce that the newly developed acne on my chin area actually subsided. (
They just love to pop up on my chin nowadays...
) Which I personally think is weird through and through. My forehead still looks dry somewhat, but apparently, this is good for "chilling" my acne. Just plain weird in the way this product actually works for certain areas of my skin. Either it is undecided whether to hydrate my skin or it is bent on helping me resolve the acne issue currently subsiding. And I didn't have any after side-effects from using this. On a whole, if this comes in a tube version, I may consider getting it to deal with my acne. But I won'y buy a big jar version to use as a nightly facial moisturizer.
VERDICT:
✓✓
WHAT I THINK:
Doesn't really hydrate on a whole, but yet is able to chill my acne to the size of a mosquito bite (o_O)"
WHERE TO REDEEM SAMPLE:
First, go over to
http://www.biothermsg.com/jul2012/femme.php
. Next, click on the Get A Sample link. After that, fill in your Name, Mobile Number and Email Address. If all goes well, you should get a SMS on your mobile phone at approximately 8:00 AM the next morning.
I previously redeemed this sample together with the Biotherm Aquasource Nuit, hence, I recommend only going for redemption if you have something else to redeem at Orchard as well, such as the The Body Shop's Surprise Gift Card for the "Make a Gingerbread Man" app.