Wow, a VIP club for women over at Lactacyd's V-Zone Care: Singapore Facebook page.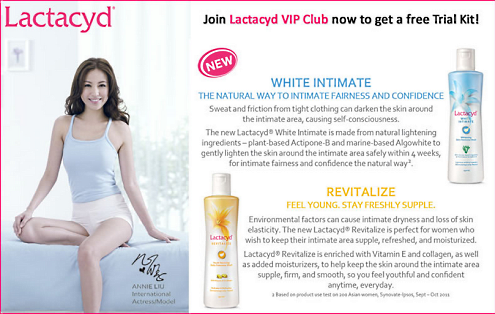 HOW:
First of all, go over to Lactacyd's V-Zone Care: Singapore Facebook page at
https://www.facebook.com/vzonecare.lactacydsg
and like their page. Next, click on the link that says:

Once the page is done loading, just fill in your particulars to register for your free Lactacyd Trial Kit! And be a member of
Lactacyd VIP Club
.

Remember to check your registered email, as
Lactacyd V-Zone Care: Singapore
will send you an email confirming that you have signed up and that your free sample trial kit is on it's way to your mailbox.
If you are still not convinced why you should start caring for your V-Zone or even why you should use Lactacyd's products for your V-Zone, go check out my review for Lactacyd V-Zone product(s) over at
http://tinyurl.com/8wrz6gu
Hurry! Caring for your intimiate parts is just as important as caring for your skin!!