[
As mentioned in one of my
previous blog post
, I requested for samples of
Nature Slim Green
and here's the review for it.
]WHAT IS IT:
Nature Slim Green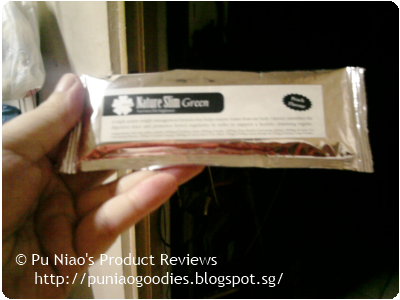 THE PRODUCT(S):
Nature Slim Green:
A detox formula that removes wastes from your body, nourishes the digestive tract and promotes bowel regularity in order to support a healthy slimming regime. To be dissolved in water, this drink absorbs excess toxins from your food intake (especially from meat), cleanses the intestinal walls and colon to attain general detoxification, reduces risk of digestive disorders, promotes metabolism and minimizes development of constipation problems.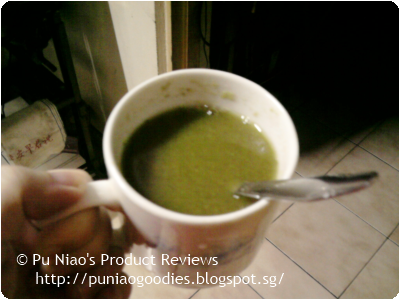 So, I mixed it with hot water as per the instructions stated..
VERDICT:
First, the scent of peach is there, since I was give samples with peach flavor even though the powder looks close to being green tea powder. But as soon as the hot water is added in and everything is mixed thoroughly, that's where this product is wrong in so many ways.
As you can see in the image above, it looks as if I just stomped over to a nearby swampy area with my mug and scooped out a mug-ful of swamp water. The taste is even worse than I imagined it to be, sure the scent of peach is still there. But it tastes as horrible as it looks, for sure!
The taste is simply horrifying that I am absolutely sure there's better slimming drinks out in the market than this
Nature Slim Green
version. What's more, the powder itself is rather difficult to dissolve thoroughly despite mixing with hot water and this version of "detox" is actually "constipation". Couldn't sleep the entire night as the stomach pain kept me awake despite the packaging promising that "minimizes development of constipation problems". Entire cup of
Nature Slim Green
looks unappealing.
Don't get me wrong though! I've bought powdered match green tea at Medi-Ya (at Liang Court) before, and there is a huge difference between the Medi-Ya version and this one. For sure, the scent and taste do not match at all. I guess the scent is there to probably try to trick you into thinking that it's nice to drink, but in fact, it isn't!
What's worse? The retail price for this product is a whopping S$142 for 30 sachets only. Seriously? S$142 for something that don't measure up to what the packaging claimed? And for a miserable 30 satchets? The company who came up with this god awful product must be a group of people with absolutely zero taste buds. Even the
Mate Tea
I am drinking now is so much more better!
Just thinking of this
Nature Slim Green
is already giving me stomachache and nausea without even having to drink it. And needless to say, I only took 2-3 sips of it before pouring the entire mug away. Same goes for the remaining sample satchet I have, just yucky to even remotely think about it being in existence anywhere in my house.
PRODUCT RATING:
✓
WHAT I THINK:
I feel like a nauseous mother without being pregnant!
WHERE TO REDEEM A SAMPLE:
If you think this product will work for you, which I highly doubt, you can go over to The Sample Store Singapore to request for
sample redemption
. Just don't say I didn't warn you!