Oh well, some more samples came by way for the past week. Here's the goodies: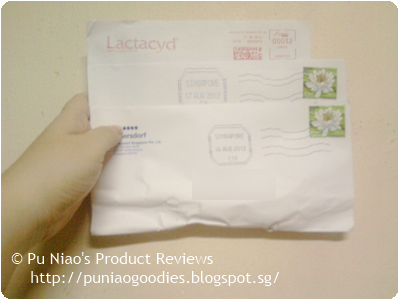 The week of mailed samples started with 3 envelopes.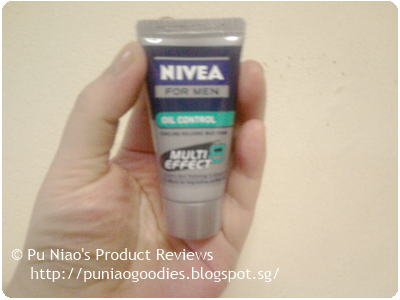 NIVEA FOR MEN Oil Control Multi-Effect 8 Cooling Volcanic Mud Foam. Cleanses Thoroughly, Defeats Oil & Acne, Cools Skin Instantly! It's a 15g sample.
WHERE TO REDEEM SAMPLE:
Go to
Nivea Singapore Facebook Page
at
https://www.facebook.com/photo.php?fbid=395104277209541&set=a.180372778682693.59571.103010723085566&type=1
, and liked the post. Next, email your name, address and contact number to nivea.sg@beiersdorf.com with the Subject title:
NFM Oil Control Mud Foam Redemption Program
.
Redemption ends on 31st Aug 2012
♥ ♥ ♥ ♥ ♥ ♥ ♥ ♥ ♥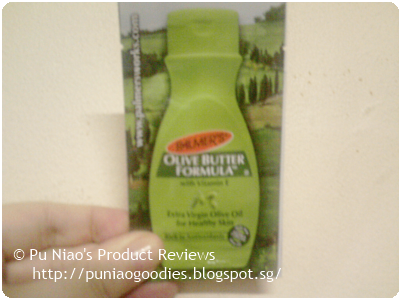 Palmer's Olive Butter Formula with Vitamin E. It's a 4ml sample.
WHERE TO REDEEM SAMPLE:
Go to
Palmer's Singapore Facebook Page
at
https://www.facebook.com/palmerssingapore/app_153284594738391
, liked the page. Next, click on
FREE SAMPLES
link and fill in your particulars. The sample mailed to you is random.
♥ ♥ ♥ ♥ ♥ ♥ ♥ ♥ ♥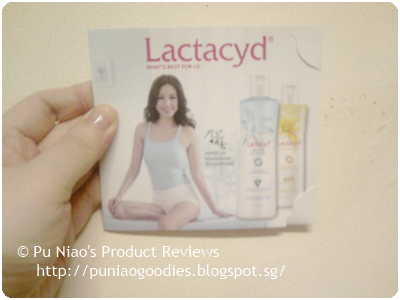 Lactacyd V-Zone Trial Kit.
Lactacyd V-Zone Trial Kit comprising of:


Lactacyd White Intimate x 1 (Natural Whitening with Marine and Plant-based extracts)


Lactacyd Vitaliza x 1 (Youth reviving with Vitamin E and Collagen)


WHERE TO REDEEM SAMPLE:
Go to
Lactacyd's Singapore Facebook page
at
https://www.facebook.com/vzonecare.lactacydsg
, like the page. Next, click on
Free Sample
and fill in your particulars. You will receive an email informing you how long the sample will roughly takes to reach your mailbox.
♥ ♥ ♥ ♥ ♥ ♥ ♥ ♥ ♥
A package from Maximuscle Singapore o.o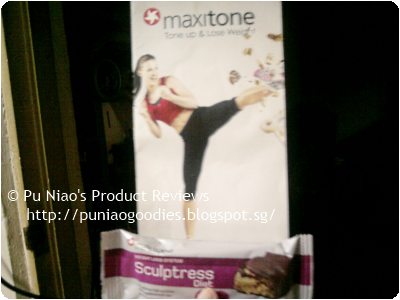 Maxitone Sculptress Diet Bar. It's a 60g sample bar o.o
Sculptress Diet Bars in new Caramel Crunch flavour have been designed for weight conscious women looking for a nutritious yet effective way to lose those stubborn pounds. Each bar is a unique high protein meal replacement with added weight loss nutrients, vitamins and minerals, designed to be used as part of a healthy balanced diet to help you lose weight and shape up fast.

Sculptress Diet bars contain a healthy balance of nutrients including 16g of quality protein to help reduce feelings of hunger and support your daily protein requirements. For added health benefits, Sculptress Diet bars also contain 30% of your recommended daily allowance of 22 vitamins and minerals that contribute towards a healthy balanced diet, support body functions and optimise your health and well-being.

Sculptress Diet bars contains active ingredients such as green tea extract and L-carnitine tartrate which are considered to support metabolic functions and help you to achieve your weight loss goals.
WHERE TO REDEEM SAMPLE:
This one baffles me actually. I don't remember ever asking for a sample, although I found the website that gives sample bars, but it's expired. You could try your luck and hope you get one in the mailbox as well by going to
http://www.maxitone.sg/promotions2011/free-sample-sg.html
. Although the instructions stated to go to CozyCot @ Orchard Central, I'd suggest not to print out the email and wait patiently for it to come in your mailbox instead. Good luck on this one!
EDIT:
Tried it after writing this review. Taste yuck! If I have to eat this to slim down, I'd rather much eat half a bowl of rice with generous helpings of broccoli, asparagus and capsicums for 2 meals...
♥ ♥ ♥ ♥ ♥ ♥ ♥ ♥ ♥
So, I got a phone call from a woman from GlamaBox asking if there'll be anyone home to receive the box that will be sent in the late afternoon/early evening timeslot. But the box came close to 9pm and I skipped dinner to wait for the box's arrival D: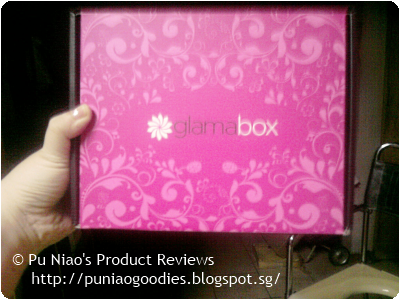 And when the box finally came, I can't wait to open it up and take a look at what's inside!!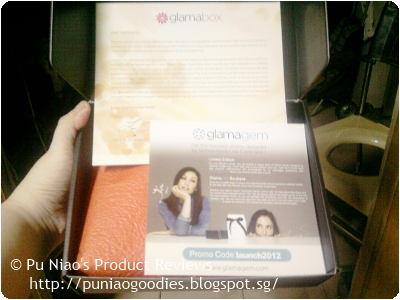 So, there's a
glamagem
advertisement card and a
glamabox
card detailing what's inside the box.
Of glamagem:
Glamagem.com, a collection of designer jewelry curated and designed by celebrity model and co-founder QiQi and Lisa S. Glamagem products are exclusively available online at www.Glamagem.com.

Glamagem customers will be able to purchase one off products from the Glamagem boutique or pay a monthly membership fee of $688 HKD for Celebrity Limited Edition products within the collection. Membership benefits include exclusive member discounts, early access to limited edition products and personalized selections each month matched to their individual style. The Glamagem collection will include a wide range of prices from $100 HKD to $688 HKD for unique designer fashion jewelry.
Of GlamaBox:
Front of the card is a message to subscribers of GlamaBox and on the back, is a detailed list of what will be getting in the current edition of our GlamaBox. It even comes with a information on the product sample given, what the product is for, what it helps to achieve when applied. And not forgetting, the retail price for the actual item and the nett weight for the retail size item. And as I mentioned on my previous post on another Beauty Box, I thoroughly appreciate the fact that there are Beauty Boxes companies that actually includes little information like this to help us ladies decide better on our budget. Intsead of going down to the shops, taking a look at the price and then having to re-budget on the spot. Too troublesome!
It comes paper-wrapped in a quality paper, complete with a sticker lol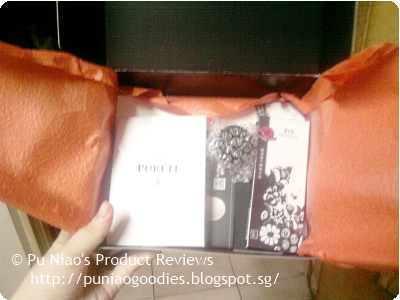 Since the
GlamaBox
sticker wasn't that adhesive, I would like to report that no harm came to the pretty paper.
For a low cost of SGD18 per month, subscribers get up to 5 beauty goodies in their boxes. Some indie brands I may not have heard of and also products that are catered to my skin type as well. Good!
♥ ♥ ♥ ♥ ♥ ♥ ♥ ♥ ♥
And without a waste of precious time, here's what exactly is in the August edition of
GlamaBox
!! *From the biggest item to the smallest by the way*
Genaya Aloe After-Sun Soothing Silk Ice Film | 25 ml
Retail Price: SGD 20 (5 pieces)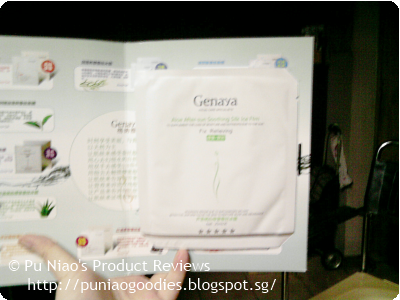 Genaya Aloe After-sun Soothing Silk Ice Film is the best combination of the finest silk and latest US technology. This ultra-thin and breathable full-face mask is lightweight and durable, offering a superior fit, seal and comfort to the face, allowing all the ingredients to be absorbed into the skin. Specially formulated with Aloe Vera extract from Africa, the various bioactive elements in Aloe Vera can penetrate into skin, tighten skin and provide collagen protein and moisture. It provides rich minerals and microelements to replenish skin after sun damage, keeping our skin looking soft, bright and smooth.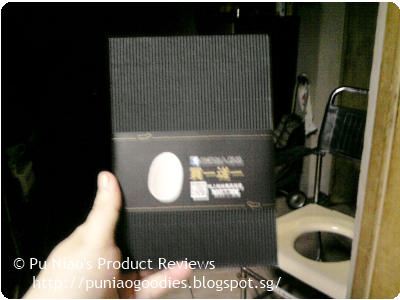 Timeless Truth Organic Silk Fiber Elixir Mask | 1 Piece
Retail Price: SGD 36 (10 pieces )
Timeless Truth Organic Silk Fiber Elixir Mask nourishes your skin with brightening and hydrating elements such as Organic Arbutin, Pitera and etc. It not only immediately brightens skin tone but also continuously lightens skin beneath layers all night long to give you lasting translucent fairness and firmness. Effectively controls the formation of melanin and reduces the dark pigments on face. You will find your skin rejuvenated, hydrated, looking youthful with a radiant glow after application.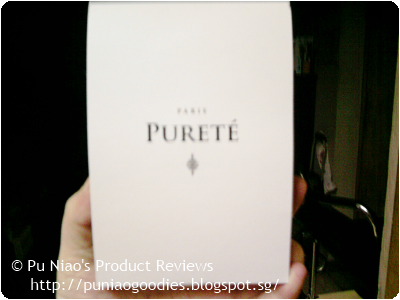 Pureté Duo Care Eye & Lip Cream | 5 ML
Retail Price: SGD 245.5 (50ml)
I'm a sucker for lip glosses and lip balms since I tend to have overly dry lips that cracks almost on a daily basis D: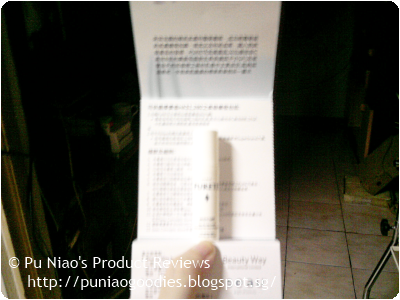 Pureté Duo Care Eye & Lip Cream can increase blood circulation and reduces puffiness, under-eye shadows and fine eye-area and lip lines effectively. Sorbitol and Grape Seed Oil help to make the fragile eye-area skin stronger and better protected. Precious Frankincense and Tocopheryl Acetate soothe and comfort the eye area by protecting skin against environmental damage.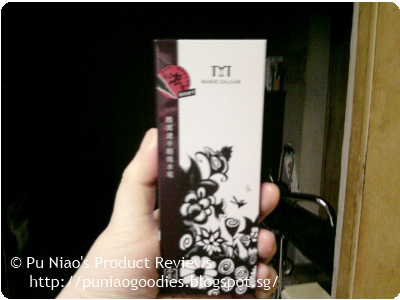 Marie Dalgar Black Dry Fast Eyeliner | 1.0 ML
Retail Price: SGD 14 (1.0ml)
Again, I'm actually a sucker for eyeliner as well XD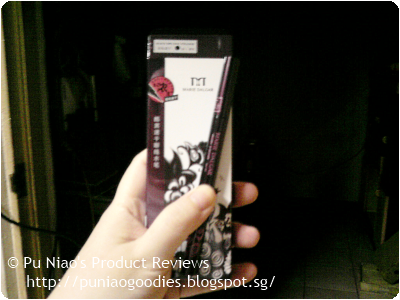 Marie Dalgar Black Dry Fast Eyeliner is an easy-glide, quick-dry precision liner stays in place until you say when. No smudges, feathering, or running, the thin, marker-like tip is easy to use, even for the beauty beginner. Delivers any look (from a thin line to a bold, dramatic stroke), it also goes on smoothly without skipping, smudging, or pulling, and lasts all day!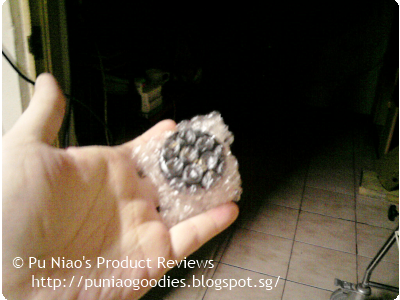 Louvier SPF50 Sunscreen BB Cream | 5G
Been trying to hunt down more BB Cream samples to fit my pale and ghostly skin tone, this one's generous. It doesn't come in a satchet, but a little tub instead. *squee*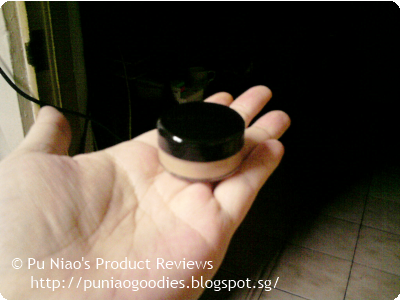 Louvier SPF50 Sunscreen BB Cream has multi-functionality including sun protection, improving dullness, wrinkle improvement and improving initial ageing phenomena. This bb cream is suitable for even sensitive skins, keeping your face always looking youthful! With sun protection factor of SPF50, effectively blocking UVA and UVB, protecting your skin from ultraviolet ray. This product visually camouflages the flaws on your skin with four peptides so it not only evens up and brightens up complexion, but also conceals imperfections. Your skin will appear lighter and more radiant after use with a softer and smoother touch.
*Must shake well before use*
If you want your own GlamaBox, just make an account using my referral ID at
http://www.glamabox.com/sg/en/home/refuid/23849
. I'm not exactly sure if previous editions are stil available, but you can email and find out more.
♥ ♥ ♥ ♥ ♥ ♥ ♥ ♥ ♥
I'll do an over-all review regarding all 3 Beauty Boxes I have and which are the ones I would gladly subscribed on a long-term basis and the reasons why? So, stay tuned to my blog for new updates.