WHAT IS IT:
Cetaphil® Oily Skin Cleanser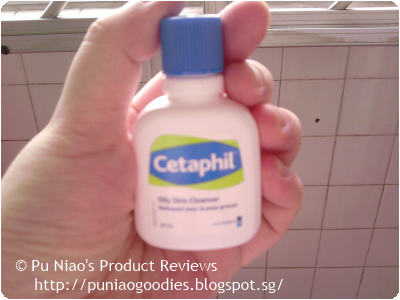 THE PRODUCT(S):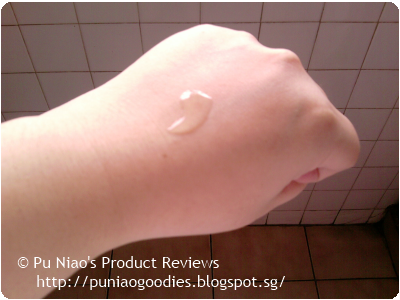 Cetaphil® Oily Skin Cleanser:
Provides effective cleansing for oily, combination or blemished skin. Its gentle foaming action removes oil, dirt, skin debris and makeup without leaving your skin dry and, importantly, without the tightness that results from soap-based cleansers. That's because it is formulated to remove oil without affecting the skin barrier.
Skin acts as a barrier, keeping moisture in so it is important that a cleanser works without compromising the skin barrier. Cetaphil® Oily Skin Cleanser does not clog pores and can be used in conjunction with acne medication. Used twice daily for two weeks on people with moderately oily skin, Cetaphil® Oily Skin Cleanser reduced sebum levels by up to 60% without over drying the skin.2
Poured out a close-to-generous amount on the back of my hand for reviewing. Although it's only a sample, but it is still a product, must use sparingly!
VERDICT:
When I first heard of
Cetaphil®
, I was a little hesitant. Partly because my knowledge on beauty jargons aren't so great then, and the word 'non-comedogenic' quite frankly scared me off a little. Nowadays, it isn't unusual to find beauty products, whether they are facial lotions, facial cleansers and the like with medical terms that some or even most of us are unaware of until recently.
But I'm definitely glad to know some of their meanings and
'non-comedogenic'
actually means.
Non-comedogenic: Not likely to block pores in most people
All in all, whether we have normal, oily, sensitive or combination skin types, it is always important to choose facial cleansing products that doesn't clog pores. This doesn't just apply to only oilies (another term for folks like us with oily skin), but to every other skin types as well.
But back to the topic at hand before I get carried away!
Personally, I've tried all types of facial cleansers (and products) meant for oily skin throughout my growing years from the time I left school until now. What initially works for me ended up being useful after a few years time and it became a massive facial cleansing hunt for another one that works almost just as well. (This time round, it's not me, it's the cleanser..)
I've previously tried the BHAs and the AHAs type of facial cleanser, although it looked as if it works for my skin, but the effects are only less than 2 weeks. The acne on my chin will start to settle down like dormant volcanoes, but once the magic is over, those pesky little chin devils of mine will start flaring up, getting red and angry to the point where it cannot decide whether it should just fade away to nothing or just go ripe till pimple pus formed. And it's already been 2-3 months since those chin devils of mine has made my chin their permanent home.
Benzoyl peroxide a.k.a Oxy 5 seemed to work somehow, but effect isn't lasting, it just slightly calm down my acne while Oxy 10 works miraculously well, but ended up making my face looked so red that I've had friends and colleagues asked if I had been binge-drinking <.<
So far, I've been using this
Cetaphil® Oily Skin Cleanser
sample for a couple of days now, and each time after usage, my skin doesn't feel as if I have left-over residue on my face that I forgot to clean off. And it doesn't even over-dry my skin nor does my skin feel tight and taught, It just simply and effectively clear off enough facial sebum so my face looks matte without over-glossing too much.


Source: http://www.cetaphil.com.au/Products/OilySkinCleanser.aspx

This product doesn't lather nor foam like soap, just simple and effective facial cleansing. Due to the fact what I have with me now is a sample version only, but I would defintiely buy a retail size version (500ml) once I'm done using my other facial cleansers that I have over-stocked.
PRODUCT RATING:
✓✓✓
WHAT I THINK:
Patience, persistence and perspiration make an unbeatable combination for success
WHERE TO REDEEM A SAMPLE:
If you would like to feel non-clogged pores, go over to Cetaphil® Singapore Facebook page at
https://www.facebook.com/CetaphilSG
Click on the link under
Like
and
Message
that says "Free Cetaphil Samples" for a 29ml sample