WHAT IS IT:
TBS
Deep Sleep Dreamy Pillow & Body Mist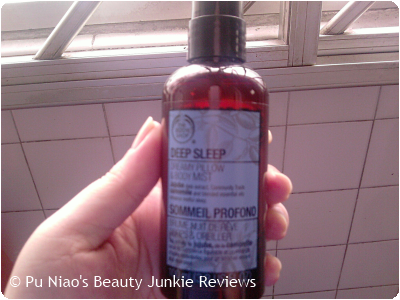 THE PRODUCT(S):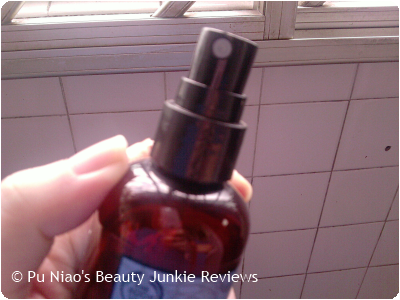 TBS Deep Sleep Dreamy Pillow & Body Mist:
Spray some of this quick-drying soothing mist onto your pillow or sheets before bedtime and the special encapsulation technology will ensure bursts of active fragrance will be released throughout the night, as the body moves, to aid more satisfying sleep. Geranium, juniper and patchouli oils soothe and promote tranquility. Special relaxing ingredients of jujube date and Community Trade chamomile combine to balance and soothe and promote tranquil sleep.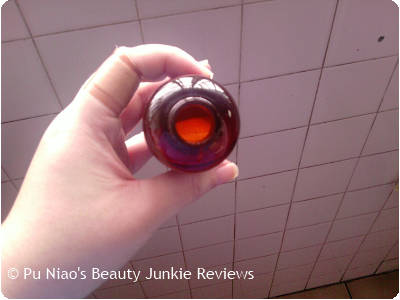 This "special concoction" is actually slightly milkish in color and the scent is rather pleasant too, considering that it contains Jujube date extract, camomile and other various blended essential oils.
VERDICT:
First, the scent. And as mentioned just above, the scent is rather pleasant too, considering that it contains Jujube date extract, camomile and other various blended essential oils. We always tend to think that when a product has too many blends of essential oils on top of actual main ingredients, the scent will probably be towards the "yucky" genre. And most times we tend to think this way, which is rather normal. It's only when you dare to take the very first step by sniffing then you will realize it isn't that awful.
Granted that when
TBS
first released this product years ago, I actually bought it and reviews for this particular product was still really limited. And there's a few more other products under the
Deep Sleep
series, but we'll leave that to another day. We all know that camomile (or chamomile) as a herb is the world's most soothing herb, helping to relieve anxiety and insomnia, to put it simply. Chamomile as an anti-spasmodic, is responsible for the muscle and nerve-relaxing powers of the herb. It is used commonly to treat anxiety disorders and insomnia, as well as muscle pain associated with menstrual cramps and muscle strains. Certain active compounds in chamomile work similar to anti-anxiety medications, which promote and nervous system.
So, it's no wonder that
TBS
tapped into this aspect of chamomile as one of it's
Deep Sleep
series. This not only can be used on your pillow and bed-sheets, you can also use it as a body spray just before night-time. And I cannot stress how earthly and "mother-naturedly" it feels to be sleeping in such a wonderful coccoon throughout the night. It's similar to sleeping in a jungle, something like
this
.
(Hey, don't' ask how I got this image, it just showed up via StumbleUpon and it's supposedly in an Indonesian jungle.)
I love how this product smelled close to nature on a good level.
And I normally only use this when I am really tired and sleepy and find myself unable to transit into La-La-Land despite lying on the bed for hours. And that is the exact moment I need to use this spray, especially if I have to wake up early the next morning, with bright eyes, clear mind, etc etc.
And what we all may not know is that, this spray is actually moisturizing on our skin too. And at the same time, it doesn't stain your bed sheets nor pillow in any way at all, since this is already my 2nd or 3rd bottle I am using as of now. None of the essential oils nor ingredients used gives you any disturbed sleep at all. Just spray, climb onto your suddenly cozy and inviting normal bed, and.. snooze. Just that simple. As it comes in a small handy bottle with a spray nozzle, you can actually bring it along with you to a chalet outing to ensure an un-disturbed night sleep after a night of merry-making and barbecue activities.
I personally believe that if you are suffering from a cold or cough and find yourself unable to sleep properly due to the excessive sniffling or coughing, this could be your sleep savior. And as my immune system is rather finicky due to the occasional slight cough or runny nose or even the once-in-a-blue-moon asthma attack, I found that this doesn't make my already runny nose or coughing fits or even wheezing lungs to suffer any side-effects from using this to sleep even better.
PRODUCT RATING:
✓✓✓
WHAT I THINK:
Sweet dreams are made of.. *snores*
WHERE TO REDEEM SAMPLE:
I don't recall this range having any types of samples available, but then, it doesn't hurt to ask though. But on a side note, I would recommend sniffing the content before purchasing it, as this contains geranium, juniper and patchouli oils. And the orange-y scent will not be everyone's cup of tea.
TIP:
If you are afraid that the scent of the spray might be a little overwhelming or overpowering and prevents you from sleeping, here's a little trick. At least 10 to 15 minutes before your bedtime, spray it liberally on your pillow(s) and bedsheets, and even your blanket if you used it. Let the mist settle down on your bedding items before you hop on. You will find that the scent will not seem too overwhelming or overpowering at least 10 to 15 minutes after spraying/misting it, if you have a sensitive nose.