WHAT IS IT:
Blue Corn 3-in-1 Deep Cleansing Mask
THE PRODUCT(S):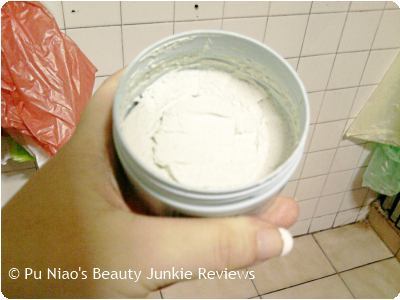 Blue Corn 3-in-1 Deep Cleansing Mask:
A 3-in-1 mask that deeply cleanses, exfoliates and moisturizes the skin in one easy step. It leaves the skin feeling clean, smooth and balanced. This three-in-one cleansing mask cleanses, exfoliates and moisturizes normal to oily skin. Gently cleanses the skin, removes dead skin cells, excess oil and impurities. Moisturizes, leaving skin feeling soft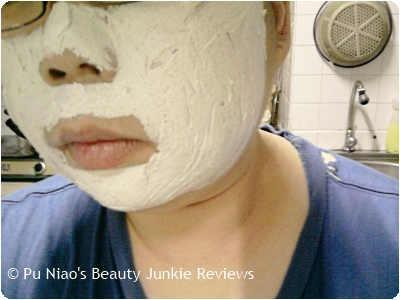 Avoid the eyes, eyebrows and mouth. And not forgetting your nostrils!! And I wear my special crappy blue T-shirt like this one, pertaining to special occasions such as hair-coloring (which happens once a blue moon now) and for facial mask(s) moments, in the event it dripped.
VERDICT:
I was previously using the
Tea Tree Face Mask
, and I do had to admit that I was using the
Tea Tree Face Mask
almost on a daily basis previously. Partly due to those few pesky new acne on my chin that refused to go away or just go ripe. And although it did help, I had to use it almost on a daily basis in order to see any effects at all. Didn't help that my skin was oozing a little more sebum that I wanted it to, and it does burn a hole in your wallet/pocket if clay/mud face mask are being used on a daily basis.
And after I was done using my very last
Tea Tree Face Mask
, I decided to buy this
Blue Corn 3-in-1 Deep Cleansing Mask
as my "final" resolution. I was previously introduced to this face mask by a TBS outlet staff but because I have oily skin, I actually dismissed this product as being effective on oily skin types. I wished I had taken the recommendation into consideration back then. But since I'm out of masks, I thought I'd just have to give this a go. No pain, no gain!
When I first applied it on my skin, I felt this strong tingly and prickling sensation that rivals
Tea Tree Face Mask
. It actually felt a little more "intense" on my skin, so if you have sensitive skin, I would strongly urge you to go down to any
TBS
outlet and ask for a on-the-spot trial before buying it. Just 1 use and I can actually feel my face/skin being slightly more cleaner than before.
And as mentioned about the "strong tingly and prickling" sensation, this is a product that is good for a once or twice weekly use, not daily. Unless you insists on, as I quote an ex-manager of mine, "wash until your face drop or rot!", I personally don't recommend using this more than two times a week.
The oiliness on my skin goes away after I washed off the dried mask (after 10-15 minutes, depending on how much you applied), my pores felt a little more refined than before. I can almost detect a visible radiance to my skin, it's as if the mask removed the "dullness" on my skin as well. I've tried many face masks and although the
Tea Tree Face Mask
is good, I felt this is even better!
Here's the fun little thing about this Cleansing Mask. As it dries off on your skin, you can actually use the "remnants" to semi-scrub your face as well. Almost like a 2-in-1 facial wash, cleanses and exfoliate at the same time. Smooth, refreshed and cleansed face can be easily achieved with this little gem here. Best if you let this product work it's magic and then splash your face with some water and use circular motions with your fingers on your face to get the best out of the exfoliating scrub part, rinse well, and
walala
! And already, the existing acne on my chin does seemed to have calmed down a litte after using this :)
Normally, I use this product before it's time for my shower. And once the mask has dried off on my face, I just go into the shower. Splash water on my face and when the hardened mask gets softened in the shower, I just rub the remaining mask on my face as an exfoliatant. This is a pretty nifty way to get more out of cleansing/facial mask such as this
Blue Corn 3-in-1 Deep Cleansing Mask
. And I do had to admit, I really need to kick myself once more for choosing
Tea Tree Face Mask
over this gem. But I'll probably miss..
PRODUCT RATING:
✓✓✓
WHAT I THINK:
It's a good type of intense!
WHERE TO REDEEM A SAMPLE:
Unlike facial lotions, serums, shampoos, etc that has sample satchets for you to bring home and try in your own comfort, I highly doubt face masks have samples. However, you can just pop by any
TBS
outlet in Singapore and ask to try it on the spot.
Especially so, considering that this cleansing mask is really "intense", so you may want to try it on the spot to gauge/judge whether your skin can handle the "intensity" the mask does on your skin first. However, I assure you, that feeling is actually good as it literally sucks the gunk out of your face and pores while it's working.