Simply put, some of these samples/freebies may have limited stocks, so I'm going to update on what are the ones received/redeemed, with links to get them. Also, take note that although some samples/freebies are fully redeemed, they may have ongoing sample redemption, like
Estée Lauder
for example. So, it's generally a good idea to actually
Like
their page to keep track of the newest and latest samples/freebies. Without further ado, let's take a look at this week's goodies :)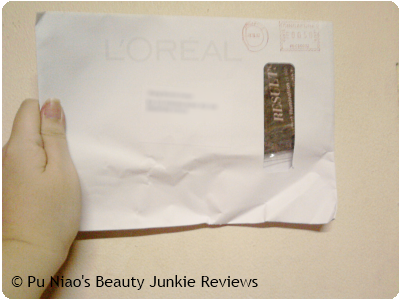 Luckily, there's a peek-a-boo window on the envelope, so I know where this envelope is from.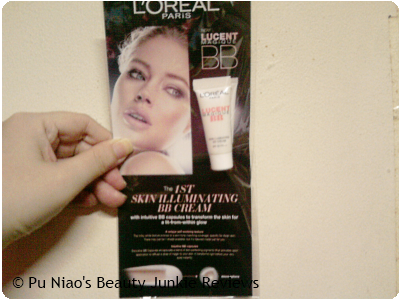 L'Oreal Paris: Lucent Magique BB. Skin illuminating BB Cream with SPF 20 PA+++. Weighs 5ml, should be good for 1 - 2 times usage.
WHERE TO REDEEM SAMPLE:
Although the samples have been fully redeemed,
L'Oreal Paris
do occasionally have samples of their newest, latest released product up for grabs for their fans. So, I'd recommend going over to
L'Oreal Paris Facebook page
at
https://www.facebook.com/lorealparissingapore
and
Like
their page to be informed of latest giveaways.

I just couldn't wait to get my hands on this latest issue of Guardian's
Feeling
magazine. My winning letter is featured and I won for myself a S$100 Beauty and Health hamper. Although I am still waiting for them to send me another email for collection details. They've previously emailed me on the day the magazine was released, asking for my IC number. But after that, no more news, although I hope they would be nice enough to send it over via SingPost or courier or whatever instead of having to make a journey down to wherever they need me to self-collect instead. (And now, everyone knows my real name
-.-
Meh..)
In this issue of Guardian Pharmacy's
Feeling
magazine, the freebies are:
A pamphlet about Mahkota Aesthetic & Laser Centre
Latest Mate Tea Lets You Sleep Better tea satchet
Colgate Plax Mouthwash
New Equal Stevia: Low Calorie Sweetener
Amino Fish Collagen (although the previous issue said it would be 5x instead of 1x)
WHERE TO REDEEM SAMPLE:
Just go to any
Guardian Pharmacy
outlet near you and purchase it for a low cost of only S$1.00.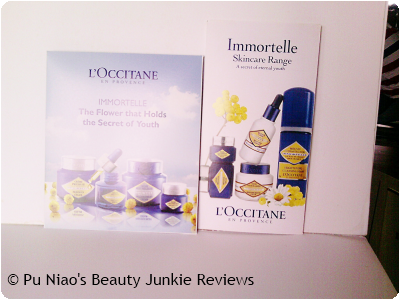 L'Occitane Immortelle Trial Kit and a L'Occitane Immortelle pamphlet.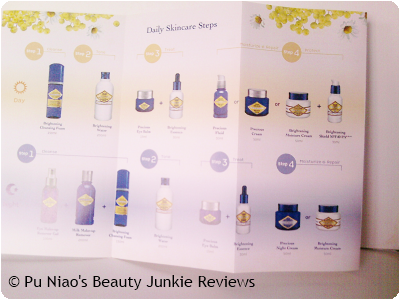 I like how the pamphlet actually have information on their latest range, how to use them and in what order. Perfect for trying
L'Occitane's
Facebook app "game" which I seemingly kept placing in the wrong order..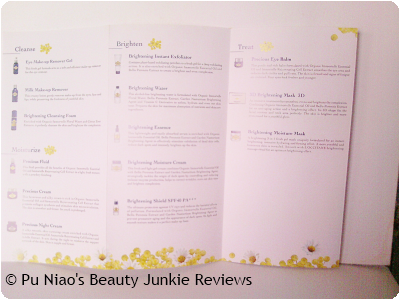 The back of the pamphlet acutally lets you know exactly which product is used for and what area/problem skin it helps to target.
In the
L'Occitane Immortelle Trial Kit
are 4 sample satchets of their latest range, and they are:
Precious Cream - Day Moisturizer
Precious Night Cream - Night Moisturizer
Precious Serum - Smooths and firm wrinkles
Precious Eye Balm - Reduces dark circles and puffiness
WHERE TO REDEEM SAMPLE:
Go to
L'Occitane's Singapore Facebook page
at
https://www.facebook.com/loccitane.sg
,
Like
their page. Next, click on the link that says
Immortelle Precious...
or go to
http://on.fb.me/S0Mmch
. Scroll to the bottom of the app itself and look for a link that says
My Redemption Letter
. You need to print out this redemption letter in order to redeem your
L'Occitane Immortelle Trial Kit
.
The staff at the outlet that I encountered was pleasant to talk to and she actually correctly deduced my skin type at first glance. She pro or what? :D And she wasn't pushy in trying to force me to buy anything, at least here's a staff that knows that there are some of us who ask for samples to try before deciding to splurge on a product. For this, I respect her!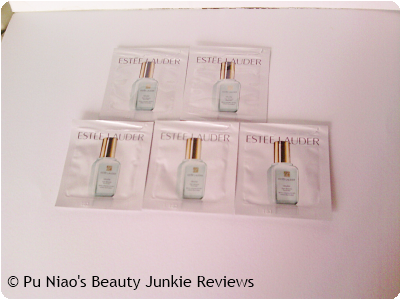 I collected this
Estée Lauder
Idealist Even Skintone Illuminator from their Takashimaya outlet and honestly, I don't really like the attitude of the staffs there. What I wrote on
Estée Lauder
is considered polite in my own terms, as I know I can be really sarcastic.
The previous time I collected another product sample from their Taka outlet, the SA who attended to me was trying really hard to maintain the smile on her face. I'm not sure if she herself noticed, but I saw her smile went "poof" as soon as her back was seemingly turned away from me. Sucks for her that there's mirrors at their counters. And unluckily, she was also there this time round, although I redeemed it from her colleague. Attitude just as sucky, looks distracted, made me just want to grab my sample(s) and get the hell out of their outlet pronto.
WHERE TO REDEEM SAMPLE:
I was previously blind-browsing on brands like
Estée Lauder
on Facebook when I came across one of their
wall post
about finding the right serums for your skin. And I only dilly dally and waited until yesterday to redeem it. I believe this redemption is over, but for those of you ladies who's still holding on to the redemption letter, you should still be able to redeem your sample(s). But take note that CK Tang is under renovation, so you have to go to another
Estée Lauder
outlet along Orchard Road to redeem it.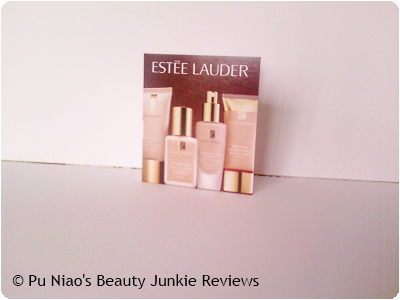 Estée Lauder Double Wear, I redeemed this at the
Estée Lauder
outlet at Metro Paragon instead, since I still remember a particular SA at the Taka outlet.
They actually have quite a number of shades, so the counter manager at Metro Paragon (Miss Clarina Seetoh) actually suggested that she try at least 2 shades closest to my skin tone. In this way, I can actually redeem a shade that best complements my skin tone. Wonderful service from her. Although to be honest, when I first walked into the
Estée Lauder
outlet at Metro Paragon, I felt a little but intimidated as she seemed, well, looked like the "no-funny-business".
However, as she explained to me about the procedure she's doing for me, I kinda felt that here's a staff that actually cares about what her customers are looking for and being dedicated to helping her customers make the best decision/purchases when it comes to makeup. And I even learned that the skin tone on our face and neck sometimes can be 2 different shades/tones, and it's either choosing the right blend/color that should be blended towards the neckline to even out the entire skin tone or choosing one that complements the face into looking more natural. Hmm.. I learned something new from her, that's for sure.
And I also like the fact that all the
Double Wear
samples aren't pre-packed so they can rush potential customers-cum-samplers away. The counter manager ensured that she helped me find the right tone for my skin before filling up a sample bottle for me to take home and use. Sweet!
WHERE TO REDEEM SAMPLE:
Go over to
Estée Lauder's Facebook page
at
https://www.facebook.com/EsteeLauderSG
,
Like
their page if you haven't done so as
Estée Lauder
frequently have samples of their latest product(s) available for fans to redeem. Next, click on the link that says
Estée Lauder Double
(it gets cut off) and wait for the page to load.
Once the app page finished loading, click on the link that says
Let's experience it now
. Wait until Nicki Minaj finished irritating you with her music while the models used the Double Wear as canvas paint in the video to finished playing. Next, click on
Try it now
and follow the prompts. By the way,
CK Tangs
is under renovation, so I'd suggest not to choose that outlet to pick up your sample for the time being.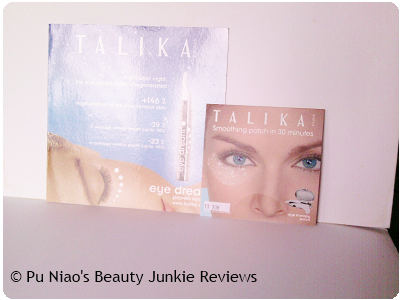 So, I had to wait until today (19 Oct) to redeem this
Eye Therapy Patch
by
Talika Singapore
and the redemption location is at Bugis Junction, BHG from 11am to 9pm.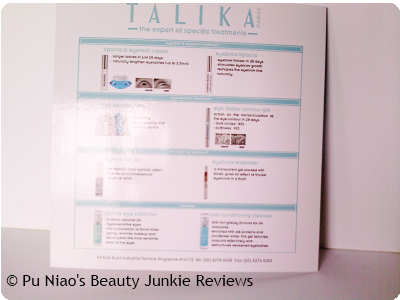 Along the way, the SA gave me a pamphlet that contains more details about their
Eye Therapy Patch
.
When I opened up the package, there's a really simple instruction on how to use it. Fuss-free, I like it.
The
Eye Therapy Patch
can be re-used a total of 3 times and it actually looks like those regular facial-paper masks that are meant for the eye (bags) only. But it's actually soft adhesive, so it can be re-used up to 3 times in all.
WHERE TO REDEEM SAMPLE:
First, go to
Talika Singapore Facebook page
at
https://www.facebook.com/TalikaSG
,
Like
their page. Next, click on the link that says
Free Sample
. Just follow the prompts and remember to print out the redemption letter and bring along your IC for collection.
As a side note, the SA I encounteredm at Talika BHG Bugis is rather persistent on having me buy at least one product which cost S$80.00. And she dropped more bait by mentioning that there's a lucky draw, which I totally do not believe. It's a lucky draw, you only "draw" the good stuffs if you are extremely lucky and happened not to wish too hard for it. Fortunately, I wasn't interested as I haven't tried their products before.
And before I know it, I got to try 3 different products meant for the eye area. Right as soon as she wanted me to "try" the first tester product, frankly speaking, I was ready to ditch the free sample and get the hell out of there. Really insistent and persistent. Prepare a really thick layer of skin if you only intend to redeem the free
Eye Therapy Patch
and not buy anything else. Or she'll keep grabbing more tester products to let you try, until she breaks your mind and you end up buying something just to get her to stop.