[
I know this particular review isn't about beauty products or anything related to beauty products. But I felt this review about Singapore's TSS is due, considering that they suddenly increased their delivery fees without warning and such. Read on.
]
To be honest, when I first got to know about
The Sample Store Singapore
, I was really ecstatic. I mean, there will be days when you really don't feel like going down to stores to ask for samples. Sometimes, it can be because it's not worth your transport money to go to, say Orchard Road, to just ask for 1 or 2 samples. And sometimes, Sales Assistants are rather hesitant about giving away sample satchets for you to try, especially if you do not intend to buy anything.
The Sample Store Singapore
somehow solved that problem for us beauty conscious females (and males) by giving us samples to try for a low delivery cost of S$2.99 for 4 samples. If you were to round off S$2.99 to S$3.00 exactly, each sample would roughly cost S$0.75 each. Not that expensive, if you factor in having to go to different places to get your samples. But lately, I found out from a friend's comment on
The Sample Store Singapore
's Facebook page that the delivery price was increased to S$3.99. That works out to roughly S$1.00 for 1 sample requested/redeemed. At this point, try and think this way. Not every sample
TSS
have is the same size, facial mask(s) are one thing, as they all mostly come in roughly the same size and probably the exact same weight (which is 30g). So, if
TSS
were to only have facial mask(s) for redemption, the price of S$3.99 would seem justified somehow. However, back to the topic of sample satchet sizes. Not every other sample satchets are the same. Some are so lightweight you could have thought the satchet itself is empty and void of anything in it. A check on their website simply told me that they didn't announce the increase of delivery fee has been increased anywhere at all. Although it's partly my own fault for not double-checking the fee before getting my latest samples of facial masks. But I personally thought that it's sly of them not to announce it anywhere. I'm sure most of us wouldn't have looked hard enough at the delivery fee amount until it's too late. A comment on their Facebook page confirmed that delivery fee has been increased by S$1.00, and still, no update on their website anywhere that the change has been effective as of when?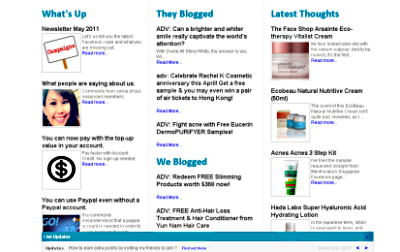 And back to the issue of their website. If you scrolled down a little more on their main page, you will see that their last newsletter was dated on May 2011. That was when Facebook hasn't undergone a renovation at all, and if there's samples to be redeemed, you would have been able to see it. Now what Facebook has undergone the "renovation" and is seemingly finalised, they could have updated their newsletter to include that and at the same time, "teach" newer members how to keep a look-out for samples that can be redeemed. Fat chance, I would dare say! From May 2011 until Septmeber 2012, still not a single squeak from their newsletter at all. Which do lead us to believe that their staff no longer cared anymore. Especially not of their members' welfare on their site, and definitely not on their Facebook page.
But on the contrary, the only thing that seemed updated on
TSS
website
AND
Facebook page are news of latest samples and current advertisements. Which I personally felt isn't that good enough at all. It is the only few aspects of
TSS
that their staffs seemed bothered to update on. And personally, I think it does sucked even more that if you are a beauty blogger looking for a sponsored "break" for your beauty-blog or beauty-related-blog, you have to keep going back to
TSS
. Even if you are gungho enough to approach companies that sells beauty products, chances are that you will be referred back to
TSS
. Unless you either is a true advocate of a particular product enough to keep buying repeatedly and doing revies on it, you may be able to earn a "sponsored" opportunity. And my pet peeve out of all this? I have to keep emailing
TSS
everytime I topped up my account with money in order to see the "change" reflected on my account at
TSS
website. Shouldn't it be a more initiative approach on
TSS
part to ensure that their customers can enjoy a hassle-free experience looking and requesting/redeeming of samples without having to worry about whether
TSS
is aware of account top-ups? My latest account top-up was last week's Saturday/Sunday (early hours of Saturday, approaching Sunday morning). And I even took the effort in sending out an email to them on a Sunday morning about my account top-up. And I was expecting my account to be reflected with the latest top-up amount, earliest by Monday late afternoon or Tuesday (which is today) early afternoon. But still, no news. Previously, they would have emailed me back stating their the necessary updating is completed. But now, still no news. Or maybe they cannot be bothered to read emails that are sent on weekends, unless prompted. But before I sign off this post, here's my own little tip(s) on making your beauty-blog or beauty-related-blog reviews count:
Just because other beauty bloggers are paying money out of their own pockets to review a product meant that you need to do the same.
Each blogger works differently. Some could be using products that they are already using, so it seems as though they looked rich enough while you are not. It's not the case at all. Example, I regularly visit The Body Shop. And because I bought enough to hit a certain amount, I always end up getting little freebies in the form of various sample satchets or travel-size items that I can use it to review on this blog. It's the same with other bloggers as well. Although sometimes it's part of a product launch that bloggers attended, so it seems that they could afford to buy an expensive facial set to test, try and review.
Don't feel upset that you are doing beauty product reviews on sample satchets.
Hey, I'm doing beauty product reviews with sample satchets as well. Why shouldn't you? And like what Madam Cheapo stated for her blog explanation, "It is not a crime to be a cheapo. In fact in the modern world we live in now, it is a virtue". Think of it this way, would you willingly buy a product in the hopes of reviewing it, only to find out that it doesn't suit you, despite the product claiming that it will work (for your skin type) and costing past S$20.00? I wouldn't! And it would be scandalous to even think you can have a giveaway for an item that you have used.
But I would want a company to "sponsor" me indefinitely so I can at least earn something for my hard work.
Here's another mini-tip for you. Part of the process in reviewing beauty products is also a journey to find that few products that can work miraculously for you on a longtime and permanent basis. Enjoy the process in doing so, and only by being thoroughly enjoying the process will your work shine. And before you know it, advertisers would want you to review their products without having you to spend a single cent on. You would get products free to test, try and review. People can see your work, considering that blogs are considered "public" on the vast Internet. It's even easier to see if you as a blogger, enjoyed the process of trying and reviewing, or just doing a stunt to make advertisers want to work with you.
And now that we've come to the end of this post, here's a last important tip I would like to share with you with regards to
TSS
. If you are already a member with them and felt that the delivery fee of S$3.99 is unjustified due to the reasons I've stated at the beginning of the post. Try not to top-up more than S$10.00 to your account. In the event if TSS just call it quits without warning, you can still "pretend" that your S$10.00 was donated to an anoymous charity. No hard feelings. If you topped up with amounts ranging from S$30.00 to S$50.00, that amount may be even harder to get back, and you will be even more upset.