I think this is a somewhat decent week since there's no free samples up for self-collection or mailbox delivery. But then, I think it's actually normal every once in a while when it happens. If not, there will be an over abundance of samples and not enough time and energy to try and review each and every single one of them, don't you think so?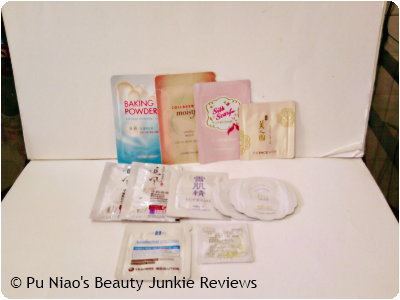 So, I got a couple of samples from Madam Cheapo over at
http://madamcheapo.blogspot.sg/
. And I have to agree with Madam Cheapo's blog slogan, redeeming and collecting samples isn't necessarily a bad thing. The reason why samples existed is because we can test and try out which ones works best for our skin before we spend cold hard cash on an expensive product. In fact, it is really a virtue.
And also, when I first started this blog, I depended mostly on
Madam Cheapo/
's blog on where to get free samples from xD But without going overboard on the talking part, here's a look at what she sent me :D
Etude House Baking Powder BB Deep Cleansing Foam
Etude House Moistfull Peeling Wash
Etude House Silk Scarf Conditioner
The Face Shop Natural Story sample
Royal Wind Moisture Renewal Conditioner
Sekkisei Supreme Moisturizer
Etude House Sun BB Cream SPF 50+ PA+++
Leaders InSolution Aquamarinal 1032 Cream
Sana Natural Resource Oil
WHERE TO REDEEM SAMPLE:
Most of these samples can be obtained via individual outlets physically :D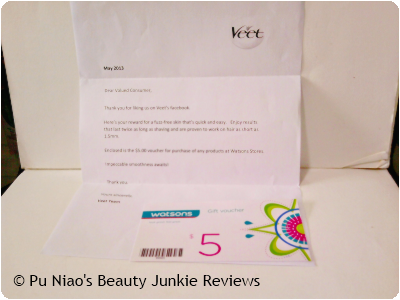 Veet previously had a Facebook app where they claimed they were giving out Veet vouchers that is usable at all Watsons outlet in Singapore. But as I didn't plan on buying any Veet products for the time being, I just simply shared this good news with everyone I know. Until
ilovepeppersung
received her voucher and shared it on her Facebook page and I realized, it's not explicitly a Veet voucher, but an actual Watsons voucher instead. So, I signed up for it and passed the voucher to my mother so she can have a S$5 discount when she buy hair dye :D
WHERE TO REDEEM SAMPLE:
Promotion is over :(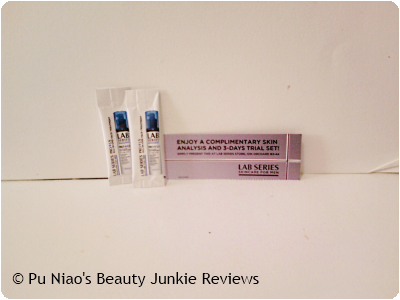 Lab Series was previously having a sampling activity on their Facebook page, and needless to say, I signed up for it for my brother. Man, his face is chokeful of pimples.... And along the way, the samples arrived with a coupon that can be redeemed for yet another
Complimentary Skin Analysis
and a
3-Day Trial Set
:D
WHERE TO REDEEM SAMPLE:
I think the sampling activity for this sample is over. However, they seemed to have another new sampling activity going on. Go over to
Lab Series Singapore Facebook page
at
https://www.facebook.com/LabSeriesSingapore
,
Like
the page as a fan. Next, look for an app called
Lab Series Instant Skin Booster
, print out the page and present it at their Ion Orchard outlet for a sample :D

Why not like my Facebook page at https://www.facebook.com/PuNiaosProductReviews to be informed of latest samples I found, which is duly updated? Also includes updates to health, beauty & lifestyle tips at least once a day. It will definitely save you the trouble of having to hunt them down :)