This week has been a fulfilling week for me, as I managed to went down to Orchard Road and collect most of my samples before May comes to an end. And out of the 6 samples, I managed to bag 4 of them and I am definitely more than happy enough.
For the Clarins sample, apparently the staff at the counter at Metro Paragon went AWOL from her counter and I was a little tired from waiting for her, so I skipped the Clarins sample. And as for the DailyVanity's Decleor sample, let's just say I was clueless and couldn't find a way to get to Level 7 of Tangs Orchard, so I just gave up on it too. But in the end, it's still an impressive 4 samples of the 6 I intend to collect. So, all's good. Without further delay, here's some of the samples and freebies I managed to bag for the week :D

For this Motherhood Vanity Trove box, I managed to know about it moments before it was fully redeemed. And basically, it was just too late to post it on my Facebook page. As by the time word gets around, it might be too late for some of my fans, so I simply omit from posting it in order not to disappoint my fans :/ Seriously, they shouldn't cap any limit for the amount of free VT boxes given out. I mean, there can't be only less than 200 mothers in Singapore, right?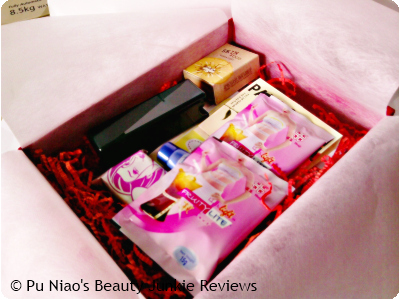 And here's a look at the VT box that was given out complimentary
(a.k.a free)
during Mother's Day period. And the items I got in this free VT box are as follows.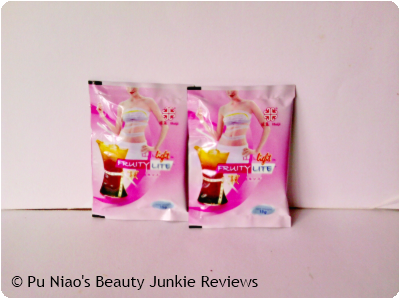 Huiji Fruity Lite x 2 sachets @ 15g each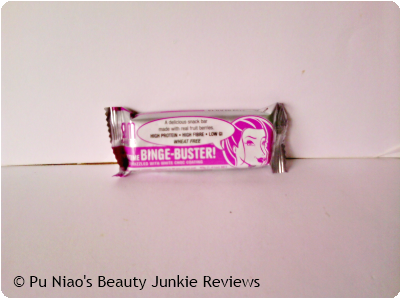 Slim Secrets Night Time Binge-Buster! Berries drizzled with White Choc Coating x 1 bar @ 40g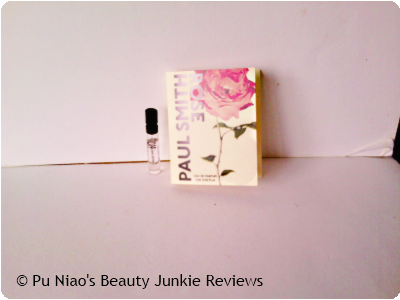 Paul Smith Rose Eau De Parfum sample tube x 1 @ 2ml (0.06 fl.oz)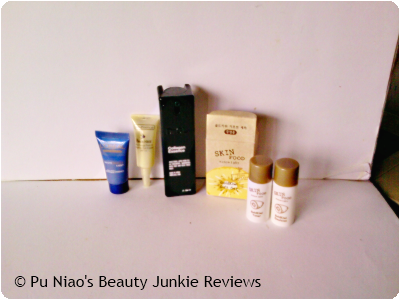 L'Oreal Paris Dermo-Expertise White Perfect Laser x 1 sample tube @ 5ml
Bio-Essence Bird's Nest Bio-Energy Firm & Brighten Eye Cream SPF 15 x 1 sample tube @ 3ml
DrGL Collagen Essence x 1 sample bottle @ 10ml
Skin Food Gold Kiwi sample Set: Gold Kiwi Toner x 1 & Gold Kiwi Emulsion x 1
iderm Skin Rejuvenation mask x 1
Beauty Buffet CO Q10 & Yogurt Facial Mask x 1
WHERE TO REDEEM SAMPLE:
Redemption is over pretty fast as soon as I know about it. But still in the end, I think this free Motherhood VT Box is still a big disappointment for me. Most of the samples can be obtained easily in Singapore and I was expecting something good that isn't readily available in Singapore that my mother can try before buying it. In short, it never fails to fail my expectations :)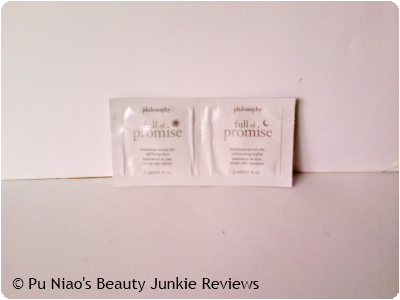 For this philosophy sample, I was supposed to collect it after 14 or 16 April onwards, but I only managed to get it just this week. And it was disappointing to say the least as it wasn't the sample I was supposed to receive stated on the redemption letter I got. In short, I was supposed to get samples for
full of promise treatment serum duo
and
dual-action cream
. But instead, I got samples for only
full of promise treatment serum for uplifting days
and
full of promise treatment serum for volumizing nights
only.
And they expect me to be wowed by a sample that I can only use for a day to 2 so much that I would buy actual retail sizes for it? philosophy is sure "full of promise" about their service and attitude. They never fail to impress with their "bochup-ness" and "act-blur" attitude. I was supposed to receive more than 2 sample sachets. And if one runs out, they could have offered to give me something else that works with their
full of promise
range. But the philosophy staff at Tangs Orchard seems unwilling to give slightly more samples. It's like they are trying to hog the samples, and by the time it doesn't get redeemed in full, they probably bring all of it home to use, to re-sell or something. It's just plain disappointing with philosophy, their staffs attitude and their stinginess :( The samples are:
full of promise treatment serum day x 1 sachet @ 2ml
full of promise treatment serum night x 1 @ 2ml
WHERE TO REDEEM SAMPLE:
It's over. And honestly, I don't really recommend trying or even buying philosophy products when they are already so stingy with their samples :(

I got to know about this Phyto sample via Facebook's Sponsored Ads section and instantly bugged everyone I know to get it :D I got 5 sample sachets for Phyto's
Subtil Elixir
via Beauty by Nature outlet at Ion Orchard.
Subtil Elixir
is meant for dry to ultra-dry hair and I am going to try it on the dry ends of my hair instead, as I've recently snipped my hair a little shorter due to split ends and whatnots xD
WHERE TO REDEEM SAMPLE:
Phyto Facebook page was previously having a promotion where fans can get a free consultation on a scalp analysis and free sample of Phyto's new product,
Subtil Elixir
. Let's just say, the staff at the
Beauty by Nature
outlet at Ion Orchard was really sweet and polite, didn't insist I had to do the free scalp analysis, and apologised profusely as I happened to catch her while she was busy with some cash issues that had to be taken care of immediately. And on top of that, 5 sample sachets as opposed to stingy philosophy's 2 sample sachets LOL Samples received are Subtil Elixir x 5 sample sachets @ 8ml per sachet
Anyway, redemption is over on 31 May but I know I did shared this redemption as soon as I heard about it :)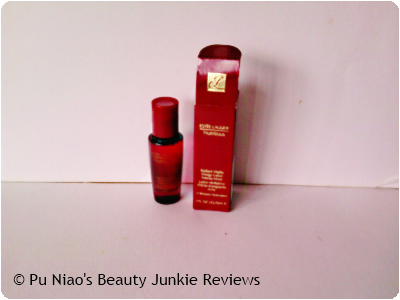 This latest product by
Estee Lauder
is called
Nutritious Radiant Vitality Energy Lotion Intense Moist
. The staff I encountered at Metro Paragon was deep in her paperwork somewhat, but she did managed to grab a sample bottle to pass for me without even having to get up from her seat LOL Anyways, I didn't have to fill in my details as per usual, so it's essentially a "take sample and run" moment for me, in case she changed her mind and asked me to fill in my details. Sample received is a Nutritious Radiant Vitality Energy Lotion Intense Moist x 1 sample bottle @ 15ml
WHERE TO REDEEM SAMPLE:
Apparently, the post on
Estee Lauder Facebook page
are occasionally filled with comments from fans who didn't get their hands on this sample. And at the same time, I don't seem to see any deadline for this sample as well, so, go over to
http://www.esteelaudernutritious.com.sg/
and fill in your details. A email redemption letter will be sent out to you, which you have to print out and bring it to your preferred outlet for self-collection.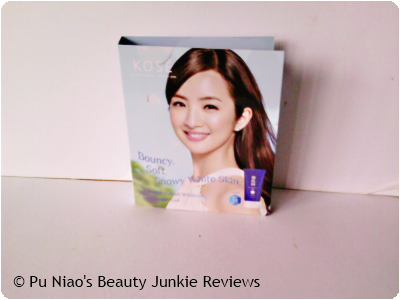 I got to know about this Kose Sekkisei sampling activity from I forgot who was it again LOL But anyway, the app itself was a little confusing when I first encountered it. The redeem sample link was there, but once I clicked on it, it was the epic clueless moment for me as it seems that there's a contest going alongside with the sampling activity as well.
But anyway, I managed to get to the part when I can really redeem my Sekkisei sample. And as per usual, bring a email redemption letter printout for self-collection at any Kose outlets. Since I was at Metro Paragon, I simply collected it there as well.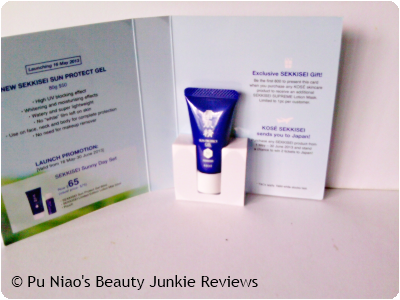 This
KOSÉ
Sekkisei sample is a 10ml sample tube, smells and looks creamy too.
WHERE TO REDEEM SAMPLE:
Go over to
KOSÉ Singapore Facebook page
at
https://www.facebook.com/kosesingapore
,
Like
the page as a fan first. Next, look for an app called
KOSÉ SEKKISEI SUN ...
(KOSÉ Sekkisei Sun Protect Gel), click on
Redeem Sample
link and follow the prompts and instructions.

Why not like my Facebook page at https://www.facebook.com/PuNiaosProductReviews to be informed of latest samples I found, which is duly updated? Also includes updates to health, beauty & lifestyle tips at least once a day. It will definitely save you the trouble of having to hunt them down :)