WHAT IS IT:
Kinohimitsu Jpan Body Slen Tea Blossom Drink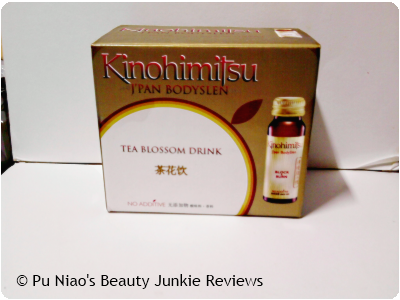 THE PRODUCT(S):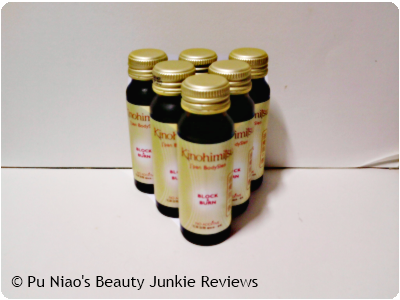 Kinohimitsu J'pan Body Slen Tea Blossom Drink:
Kinohimitsu J'pan BodySlen is a delicious BLOCK & BURN drink that satisfies picky taste buds while filling your thirst and hunger in one go. One bottle a day keeps you slender always! It effectively curbs appetite, reduces calorie intake, blocks fat storage, burns stored fats and increases your body's metabolic rate.
The taste is a little close to flower tea, if it made any sense as it didn't turn you off from consuming it after trying your first bottle. And it doesn't leave a bad after-taste hours, hours after administration via orally. And my weight did went down a little after trying this for a week :D
VERDICT:
First of all, the taste is a little close to sweetened concentrated flower tea and the good thing is that, it doesn't leave any weird after-taste despite hours after drinking it. Technically, I didn't burp up this blossom drink at all, therefore, I can safely say this is something you can look forward to trying if you are looking for slim drinks, but fear the taste might be a little too weird for you. The smell of it is almost non-existent, the only clue lies in the taste after consumption. So in other words, no weird and funky smell to put you off from the very first bottle!
As for the part that mentions about curbing appetite, well, I suppose it works differently for everyone. But ever since I started drinking this, I did managed to find myself eating on less junk food. Previously, it's like "heck-care-just-eat" attitude, but after trying this blossom drink, it's more like "I-only-eat-when-it's-really-meal-time". In short, I don't find myself snacking so often now, and this can help a little when it comes to body weight. As for calorie intake, I don't really see nor feel much of a difference though, unless I've been drinking this for years and can show some result(s) for it.
As for blocking fat storage and increasing my body's metabolic rate, similar to what I've mentioned above, I also don't really see nor felt any difference at all. And once again, it's probably possible to see some form of results if I were to continue drinking this on a long-term basis. So, it's definitely impossible to see nor felt any sort of noticeable difference one week into trying this for the first time. Although I can tell you is that, my weight definitely dropped by at least 1kg after consuming this straight for a full week. And to me, 1kg is definitely better than nothing. As it proves this product does work, but only if I continue taking it on a long-term basis.
VERDICT:
✓✓✓
WHAT I THINK:
I am definitely surprised to see a small difference in my weight for once, so I am a believer for now.
WHERE TO REDEEM SAMPLE:
I got this after my letter was featured in Guardian's Feeling magazine in the October issue. So far, I've not seen anywhere to redeem a few tablets to try, but it actually does work for me though. So, I would gladly recommend this if you are trying to look for something to help slim down a little, although do note that effects and results vary on different individuals.
Why not like my Facebook page at https://www.facebook.com/PuNiaosProductReviews to be informed of latest samples I found, which is duly updated? Also includes updates to health, beauty & lifestyle tips at least once a day. It will definitely save you the trouble of having to hunt them down :)