WHAT IS IT:
2B Alternative for Face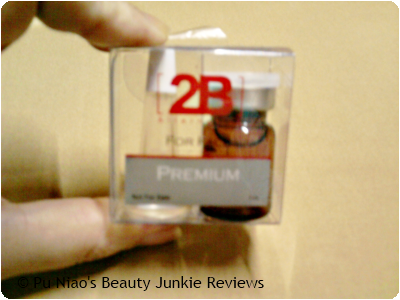 THE PRODUCT(S):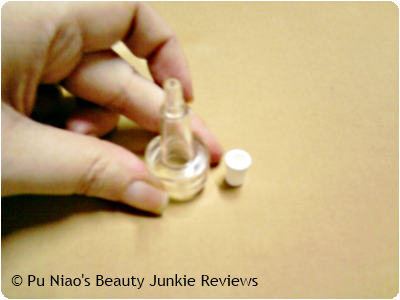 2B Alternative for Face:
By thinning out chewing muscles, 2B For Face improves the jawline contour without any injection. With ingredients originating from United States, France, and Japan, the product effectively solves various facial issues such as wrinkles, double chin, and water retention. Much safer and more resultant than bone grinding surgery, the contents in 2B For Face have passed numerous safety and sensitive tests. The formula is used widely in many beauty salons across US & European countries.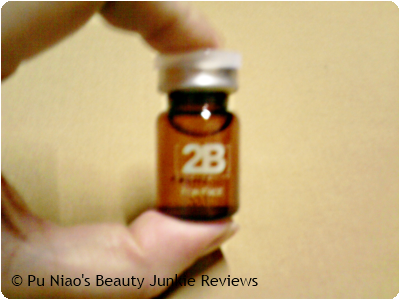 It comes in a small sample bottle, although the top isn't that easily opened with just plain fingernails :/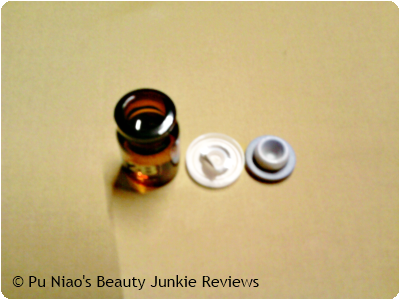 The silver foil proved to be hard to remove, but after that, the plastic stopper is just plain easy peasy. Hmm..
It looks like oil, but isn't greasy at all. And my skin doesn't feel oily nor clogged too.
VERDICT:
This actually has a really faint scent, so it's kinda hard to pinpoint exactly what the scent is about. It's almost similar to liquid-based emulsion, I suppose. Since in the bottle, it looks more towards oil-based. But when I squeezed out a drop, it felt more liquid-based instead. And even as I start to spread the solution around, I still didn't detect any type of scent to it at all. Although I am personally sure that the ingredient list stated otherwise and includes:
Acetyl Hexapeptide-3
Lipidure
Ginkgo extract
Melaclear 2
Coix seed extract
Witch Hazel extract
Aloe extract
Seaweed extract
What I like is that it comes with an additional plastic-y stopper/squeezer look-a-like thing that comes with a lid. I'm sure it's to ensure we actually squeezed out the necessary 1 - 2 drops needed to use on our face, hence the weird contraption. And as the instruction manual stated, just 1 - 2 drops is needed twice a day to ensure your face goes from round/heart chin to V-shaped chin. Provided you use it religiously without fail on a twice daily basis.
The product itself isn't oily nor greasy and after using it for a week, I am definitely glad of the fact that my double chin area didn't break out as it usually does, after trying and testing out new products for the first time. And my pores didn't feel clogged at all. And as usual, I am more of a night-time facial product user as I personally find that facial products tend to get absorbed more easily at night for me, than using in during the day time. And along the way, I am also glad that it gets absorbed rather decently and in good amount of time, so I do not smear nor smudge anything onto my pillow or bed.
And luckily at the same time, because of the lack of scent attached to this product, there wasn't any bad after-effect incidents that involves unwanted pesky pimples showing up. And let's face it, some of us may have skin that is sensitive to scented products. And it can probably get worse as we slept throughout the night, without any idea what it might be doing as we play catch-up with Mr. Sandman in LaLa Land.
However, what I don't really agree with this product is that, despite using this faithfully for a good one week, I failed to see my double chin getting smaller. Much less the V-shaped chin/face shape I was hoping to see as well. Maybe because I used it only once a day, instead of the recommended twice daily, hence the result isn't decidedly visible in a week's time. And along the way, I don't really feel the area under my chin getting smoother at all. In fact, this product more or less behaved like a facial/chin serum than an actual facial slimming product.
As such, I still have like almost full bottle left after using for a full one week. So, I am going to continue using this until I am finished with the entire sample bottle. And after that, I will update this post again on further updates on whether it works on a long-term basis or not. If it actually does work, I will post a brand new follow-up post instead. But until then, let's just hope I get close to a V-shaped face, and crossing my fingers at the same time.
VERDICT:
✓
WHAT I THINK:
Feels more like a facial serum than a facial slimming product :/
WHERE TO REDEEM SAMPLE:
I previously got this sample before
The Sample Store
changed their delivery fee from S$2.99 to S$3.99. So, if you are really curious to get the sample version and give it a try, by all means do so. As the actual retail prize is really expensive. And if it doesn't work, paying S$2.99 or S$3.99 is ultimately cheaper than paying over S$50+
Why not like my Facebook page at https://www.facebook.com/PuNiaosProductReviews to be informed of latest samples I found, which is duly updated? Also includes updates to contests that I've sourced out for you to join. It will definitely save you the trouble of having to hunt them down :)