WHAT IS IT:
Talika Eye Therapy Patch
THE PRODUCT(S):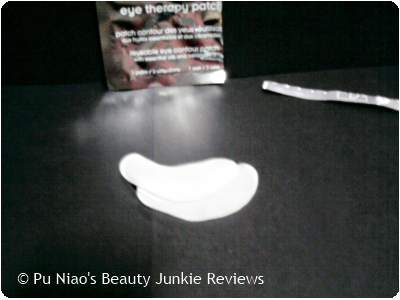 Talika Eye Therapy Patch:
This award winning dry patch acts in 30 minutes, delivering moisturizing and anti-ageing ingredients directly to the skin by osmosis. Developed from a post surgery technology. Reusable, even washable, it produces gradual and controlled diffusion of the active ingredients, stimulating the skin surrounding the eye area to a younger and smoother appearance.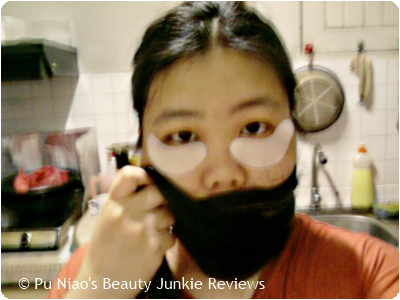 There is practically no scent at all, although I found it interesting that I can use this Eye Patch 3 times before I get to ditch it. The puffiness around my eyes were lessened, but not that much at all.
VERDICT:
First of all, there's no scent to this
Talika Eye Therapy Patch
. If there is, it's going to be weird in another sort of way as the eye patch itself is not like those new eye masks that are popping up on the market. It's actually gel-ish and soft on the application side, so I personally would recommend leaving it to cool and chill in the fridge at least half a day before application. The coolness of the eye patch being left in the fridge, combined with the effects the eye patch is supposed to give, actually makes the area around your eyes feel grateful for the pampering.
The application side of the eye patch is actually soft and yet at the same time, heavily padded with that same gel. And it does stick onto the eye area so it won't drop off, and I doubt users would be amused if their eye patch dropped off in under 30 minutes of usage time. But unfortunately, it isn't a wet eye patch at all, hence if you are a first time user, you will be thinking for sure, "Where's the hydrating feeling?" or "I don't feel the moisturizing effect at all!" Don't worry, I feel the same way too, as I was actually expecting the eye patch to be at least a little moist to emphasize the moisturizing and hydrating promise.
Note that you do have to apply it to the area underneath your eye, right on the spot where eye-bags are supposed to be formed or showed up. Too close to the lower lash line and you might feel a little discomfort somehow, but apply it right and you can just go about whatever you are doing prior to applying this eye patch. And upon application, I realized that the heavily padded gel area of the eye patch is actually adding extra weight, as it feels like the eye patch itself is a little heavy on the skin around the eyes. And apparently, I think it is supposed to be a normal feeling, considering that the eye patch itself is really heavily padded in the first place.
And as stated by Talika, this eye patch promised to reduce wrinkles, reduce dark circles and eye puffiness and scars are diminished. Personally, I did noticed that my dark circles and dark under-eyes are just slightly lessened, not dramatically lessened. And I feel that the only way to really lessen them? Get at least 8 hours of sleep every night, permanently. So, I wasn't too surprised that my dark circles and under-eyes are still actually visible under strong light. At least the good thing is that the puffiness isn't that obvious on my eyes at all, my under-eye area went from slightly puffy to no puffiness after 1 application. Although I can't really say much about the diminishing of scars around the eye area, because who on earth would go get themselves a scar around the eye area?
Wrinkles wise, I'm just glad that due to my oily/combination skin, I am not seeing any signs of wrinkles at all hence I cannot state how much it helps on wrinkles. Although I am guessing that it will help, but if you use the eye patch on a long-term basis instead of short-term or one time. Essentially, the results it promised are visible, but really fleeting, if I had to sum it up. A few hours after using the eye patch, the puffiness came back to my eyes and the dark circles and dark under-eyes seemed to have returned with a silent vengeance. And I am talking about results that lasts only a few hours. So, if you have something really important like a dinner date and you need to look like a perfect human who seemed to be able to handle life, then it's advisable to slap this eye patch on at least an hour before you're due.
Yep, this is a product I would definitely use on special occasions, but not on a daily basis. It's just too expensive to consider using it daily, but once in a while when I feel that my eye area needed a little more pampering to look pretty and flawless, then yes. As I've calculated that it cost close to S$4/- each time you use the eye patch. Whereas another brand with somewhat similar benefits will probably cost only less than S$3/- per usage.
VERDICT:
✓✓
WHAT I THINK:
When I saw visible results, i was happy. Until a few hours later, I got a shock and tried to recall exactly how long ago I had only used it. Frightening if I had to use this on a daily basis, in terms of skin and wallet-wise.
WHERE TO REDEEM SAMPLE:
I got to redeemed this sample in October last year (2012). And boy, the Sales Assistant whom I had to redeemed this from was so insistent and pushy in her upsell tactics. She just doesn't get it that people want to get and try their samples to use, because they never used their products in the first place. And I was more than eager to tell her to keep this sample if she's going to force another product on me, until luckily, my cellphone ranged. I simply picked up my sample and told her I need to pick up this call as "It's very important". And just blatantly made my way out as I hold the phone to my ear. Reason? It's actually the alarm function on my cellphone.
Hence, my trick for you is, set your cellphone's alarm to ring at least 5-10 minutes later after you walked to where you're supposed to pick up your samples. In this way, if you meet pushy Sales Assistant, your cellphone ringing away can save you from more hardcore upsell. Just do not use the alarm sound, change it to an actual ringtone intead.
Anyway, the only sampling activity
Talike
ever had was this
Eye Therapy Patch
from last October (2012). However, you can still go over to
Talika Singapore Facebook page
at
http://www.facebook.com/TalikaSG
, and
Like
their page as a fan to be notified and updated of future giveaways and sampling activity.
Why not like my Facebook page at https://www.facebook.com/PuNiaosProductReviews to be informed of latest samples I found, which is duly updated? Also includes updates to health, beauty & lifestyle tips at least once a day. It will definitely save you the trouble of having to hunt them down :)