WHAT IS IT:
Brooks European Blend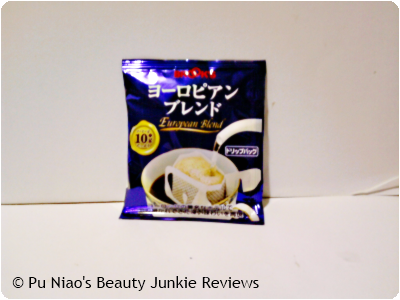 THE PRODUCT(S):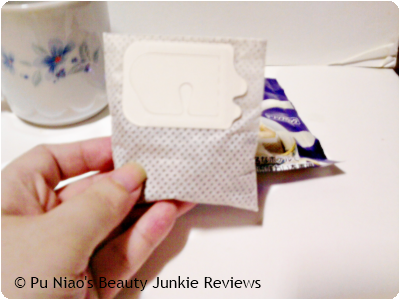 Brooks European Blend:
Bitterness with a deep and full-bodied taste, a refined fragrance is its characteristics. The dignified original blend our cup taster recommends.
As soon as I cut opened the sachet, the wonderful and aromatic smell of coffee hits my nose. And it's a good scent for a coffee lover like me, if you can smell the coffee as soon as you opened up the packaging, I personally think and feel it is the mark of a good brand coffee.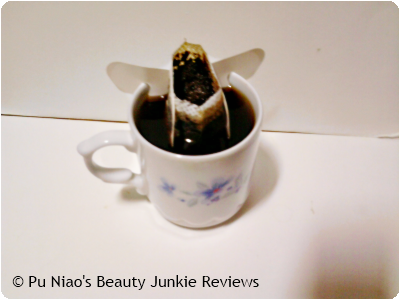 Despite the description stating that it's "Bitterness with a deep and full-bodied taste", I personally don't find it too bitter. No sugar nor milk were added, I drank it black. And I find it surprising as I personally tend to favour adding milk and a little bit of sugar to taste, not this
Brooks European Blend
where I didn't add milk nor sugar.
VERDICT:
First of all, let's talk a little about the smell. The packaging looks typical for Japanese imported or brand name coffee, so I wouldn't think it would be that special. But as soon as I cut open the sachet, that wonderful and aromatic strong scent of coffee wafted out and assaulted my senses. And I meant this nose assault as a good thing, most coffee I've tried doesn't have such a strong smell, at most to the point of teasing. So, it's actually a nice surprise for me, and I personally feel and think that if a coffee is good, the smell of it would be just as equally strong even before you add in water.
This
Brooks European Blend
comes in a single portion, which is good for one-time use. And as you can see in the above photos, you would first need to tear open the sealed filter bag before you can pour in water. And it also comes with 2 hooks for you to hook onto your mug while you pour hot water in for it to steep. And throughout the water pouring and the steeping, the smell didn't dissipate one bit at all. It's just as strong as when I first cut open the sachet, and it's just so wonderful and divine that I almost can't find words to describe that feeling. You'll know what I mean if you are a coffee connoisseur.
And as a coffee connoisseur myself, after having had the honor of being a barista previously, I can assure you the taste is nothing like the espresso from any cafe, especially Starbucks, as some reviews and reviewers have mentioned. I actually doubt they really tried espresso without the milk and sugar either, much less appreciate the layer of creamer on the surface of a shot of espresso. Sure, the scent is strong, but it doesn't taste overly bitter nor hard to digest. On the contrary, I think it's most of a slightly stronger concoction of the typical cafe gourmet coffee. Espresso itself is really strong and bitter and meant to be drank if you suddenly need to have a sudden wake-up call and have to focus. So, anyone who told you it tastes like Espresso, please kindly ignore those reviews as it's not real nor honest and total rubbish.
That I can assure you since being a barista meant that I got the chance to try almost everything type of espresso-related drinks during my working days as a barista. I can even tell you which cafe's Espresso is the best out there in Singapore. For
Starbucks
espresso in a take-away cup, they don't bother heating up the cup with hot boiling water before pulling an espresso shot into the paper cup. Same goes for
The Coffee Bean & Tea Leaf
espresso too, no prior heating the paper cup with hot boiling water before pulling a shot into the paper cut. The only cafe in Singapore that actually had the long continuous practice of heating their paper cups with hot boiling water prior to pulling a shot for a takeaway, is only
Pacific Coffee Company
. Don't trust me, go buy a single shot espresso, take away from these 3 cafes. Hold the cup in your hands for at least 5 minutes,
Starbucks
and
The Coffee Bean & Tea Leaf
paper cups will slowly turn slightly cold, while
Pacific Coffee Company
paper cup will still remained hot, even after you finished the espresso. Espresso is meant to be consumed hot, until the very last drop, not slowly turning cold, making the feel, thrill and experience of drinking an espresso turned yucky because the cup and coffee is cold to the touch.
As for the visible creamer on all 3 cafes, let's just say, the espresso grounds they pull isn't enough, so the creamer is really thin and hazy. Primarily so, since I no longer work as a barista, the coffee standards at my old workplace dropped dramatically, judging from the empty seats I see during weekdays. During my barista days, I can assure you the entire place would be packed like a madhouse at least 2 hours before the lunch crowd comes in, and the usual lunch crowd consists of office workers whom are also regulars since they come on a daily basis at least a few times each day.
If you have ever tried McDonald's regular coffee, way before they came up with the McCafe franchise, McDonald's coffee is actually called Suzuki Coffee and the coffee itself is really weak in terms of taste and caffeine strength. Like what older folks who grew up drinking robusta blend coffee, McDonald's coffee is typically referred to as "drain water". Even after they came up with the McCafe franchise, it's still drain water, with no significant change. And since this
Brooks European Blend
is also from Japan, just like the McDonald's Suzuki coffee, I am definitely surprised by how "solid" the taste is.
And personally for me, I tend to want to have a splash of milk and half a sachet of sugar in my coffee to minus off the bland taste of the coffee. But not for this
Brooks European Blend
, I do not need to add any milk nor sugar, as the taste is strong and almost full-bodied, but still not that bitter. And I dare assure you, sometimes, the best way to gauge whether a coffee is good or not, you have to take it black to get the natural taste it gives. Not cloud and mess it up with those extra condiments. And this is also the same method to gauge whether a cafe is good enough to come back to, just by their espressos.
VERDICT:
✓✓✓
WHAT I THINK:
Strong wonderful scent of coffee, almost full-bodied without being coying. The taste isn't bitter at all, even without the milk and sugar. And I assure you this is a good coffee without all the usual milk and sugar.
WHERE TO REDEEM SAMPLE:
Go over to
Brook's Café Facebook page
at
https://www.facebook.com/brookscafe
, Like their page as a fan. Next, look for the link that says
Trial Sample E&J
. It's that easy :)
Note that back in February (2013), they had a free sampling exercise where the first 3,000 people who signed up will get their Brooks Cafe samples mailed to them free-of-charge. But I think it's over, so you now have to have a postage fee of JPY 150. But I think it's worth the try and postage fee, if you really want to give this beverage a chance but do not want to buy a big box only to end up not liking the taste.
Why not like my Facebook page at https://www.facebook.com/PuNiaosProductReviews to be informed of latest samples I found, which is duly updated? Also includes updates to health, beauty & lifestyle tips at least once a day. It will definitely save you the trouble of having to hunt them down :)