So, I think this is really a wonderful and bountiful week with regards to samples and freebies. How I wish every week is something like this, around 4 - 6 freebies and samples. Or at least a decent 4 per week is also fine as well, it's better than 1 or 2, which is kinda sad and miserable to think of.
Anyway, there was this
KOSÉ
sample that I was a little too lazy to collect last week, which I duly mentioned in last week's
Samples Received/Redeemed
post. This I dulyreally lament about since I never give up on collecting any freebies/samples. Turns out, I misread the collection date and thought that the last date of redemption was on 31 March, and the actual last day of collection was at the end of April. So, imagine my pleasant surprise when I re-looked at the email printout. Which I promptly went down this week to collect everything I can, since I managed to accumulate more than 2 items to collect, all at Orchard Road.
Bottom line is that, this
KOSÉ
sample I collected, turns out that seemed to be quite a in stock. So, if you are eligible to collect a 15ml sample tube but haven't done so, then go for it!! I collected mine at Metro Paragon, and the lady who was manning the counter pulled out a bag full of
KOSÉ
samples, which I roughly estimated to be somewhere around 20 - 30 sample tubes in total. So, yes, if you also misread the deadline like I did, or forgotten all about it and wondered if it's too late, nope you're not. It's only the start of April, so you should be able to redeem yours too. You can read more about this
KOSÉ
sample I am talking about in a wee bit :D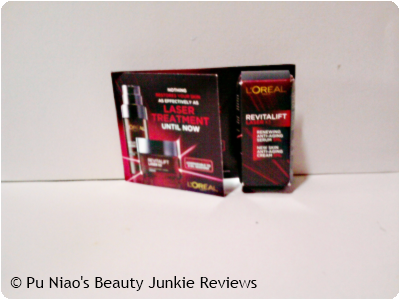 If I remember correctly, either I was directed by a good friend on Facebook about this sample. Or it was floating on the right side where sponsored ads are normally shown. Let's just say I forgot since the sample took around 2 weeks to finally show up. Yeah, anything that takes more than a week to show up in my mailbox, I mostly forgot how on earth I knew about it. But, I know it's either one of the above scenario for sure.
Anyways, when the samples finally arrived, I was expecting sample sachets, not sample tubes. The "paper box" that the samples came in were so "horrifically mangled" that the samples kept falling out. I think even worse is that one of my friend's samples came and he was missing the "Renewing Anti-Aging" tube lol Anywho, here's what the samples consists of:
Revitalift Laser X3 Renewing Anti-Aging Serum - 5ml
Revitalift Laser X3 New Skin Anti-Aging Cream - 5ml
WHERE TO REDEEM SAMPLE:
Go over to
L'oreal Paris Singapore Facebook page
at
http://www.facebook.com/lorealparissingapore
,
Like
their page as a fan first. Next, look for this link that says
L'Oréal Paris Dermo-
(http://on.fb.me/XkQPKn)
and click on it.
Once the page loads, just scroll down a little until you see the "Request for sample" link, click on it, fill in your details and L'Oreal will mail the sample to your mailbox. Takes roughly close to 2 weeks to arrive though :)

This one I do remember, as it took less than a week for the sample to show up in my mailbox. But the catch is that only the first 100
(if I do recalled the correct number)
who registered will get the samples. So, my humble apologies if you've only recently joined my Facebook page and didn't get your hands on this sample. As I always post up sampling activity links on my Facebook page first, before accumulating a week's worth via my weekly "Samples Received/Redeemed" post.
Anyways, I just stated that I do have a kid that is under 1 year old, which I do not :( But then, my fever tends to be once in a blue moon type that resembles a child's, so I might as well get one and save it for a bad fever day. Let's just say I'm not really big on going to the doctor's when I do have a fever. I just try to sleep it off, which isn't really effective at all xD
But back to the topic, this KoolFever sample is a "Cooling Gel Sheet", children sized lol
WHERE TO REDEEM SAMPLE:
Even though the sampling exercise has ended, fret not, as KoolFever has a contest going on right now. Go over to
KoolFever Singapore Facebook page
at
http://www.facebook.com/KOOLFEVERsg
,
Like
their page as a fan to be updated and informed of future giveaways, promotions and current contest(s).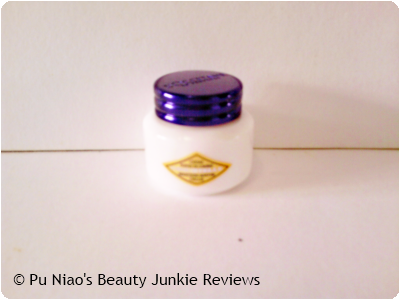 For this sample tub, I actually received an email from L'Occitane Singapore that indicated I had sent out the most number of invites and thus won for myself a sample tub of their L'Occitane Immortelle's Brightening Moisture Cream, 15ml. I assure you, my dearies, that I sent out more than 50 invites, so I personally don't think 11 invites is the highest. Anyway, this tub is going to my mother for her to use as I have a sample sachet from their previous sampling exercise before.
And kudos to Joyce for having to urgently walk to L'Occitane Takashimaya to hand me this tub in her high heels lol I think I really made her "work" for my sample tub xD
WHERE TO REDEEM SAMPLE:
Although the current sampling exercise is over, I can confidently let you know that when L'Occitane has new products, they always have sampling activity involved. So, go over to
L'Occitane Singapore Facebook page
at
http://www.facebook.com/loccitane.sg
,
Like
their page as a fan to be informed and updated on the latest sample giveaway, promotions and contest(s).
In fact,
L'Occitane Singapore
currently has a Instagram Giveaway contest going on now, so if you have an iPhone or Android phone with an instagram account, don't miss it :)

Previously,
DailyVanity
was giving out
Biotherm's Blue Therapy
sample kit on Facebook by choosing 5 daily winners. Although I picked a date to pick it up, I ended up being too lazy to go, as per mentioned in last week's "Samples Received/Redeemed" post, and it didn't help that I was feeling a little under the weather and took a nap. Which I woke up at around 5pm, and I figured out that I probably won't make it in time for collection at Orchard.
So, I thought I had to give it up since I didn't show, and I was hoping that they might give it to the next person or soemthing. And then within this week, they emailed me announcing that my name was one of the 50 picked to receive, and I can head down to any
Biotherm
outlet to redeem my 1 week sample kit (7 sample sachets in total). Yes, my "laziness" actually resulted in something good after all. And of course, I picked a weekday to go back down to Orchard Road and picked it up from
Biotherm
Takashimaya as usual.
The
Biotherm Blue Therapy
sample kit 1 week trial consists of 7 sample sachets, at 1ml each. I reckon you can use it for up to 2 weeks, if you apply a thin layer, day and night.
WHERE TO REDEEM SAMPLE:
Didn't get picked by
DailyVanity
to win the Biotherm Blue Therapy sample kit? Don't worry a single bit at all. Go over to
http://bit.ly/ZkUVW4
, fill in your details and wait for a SMS. Once you received the SMS, you can flash it at any Biotherm outlet(s) in Singapore to pick up your Biotherm Blue Therapy sample kit :D

For this
Sk-II
sampling activity, I only found out about it roughly 1 - 2 weeks before it ended. So again, if you only joined my Facebook page recently, my humble apologies once more. I got to know about it via a Facebook friend's status update, and there wasn't any sponsored ads floating around that mentioned this promotion. I just happened to saw it on a friend's feed, which I duly informed everyone I know
(on my personal friend list and facebook fans)
to go "pick a tile".
Never found out who was the lucky one who got the biggest prize. But this
SK-II Whitening Source Derm-Revival Mask
can be considered a "consolation" prize of some sort for joining their "tile" activity. The mask is just one piece, and despite being some sort of "consolation" prize, I still have to admit,
SK-II
is actually an expensive brand I don't see myself buying on a long-term basis. So, this mask can probably convince me to do so, one product every 6 months at a time xD
WHERE TO REDEEM SAMPLE:
Anyway, despite the "sampling" activity being over, you know know what
SK-II
might come up with soon. So, I'd still recommending going over to
SK-II Singapore Facebook page
at
http://www.facebook.com/skii.singapore
,
Like
their page as a fan to be informed and updated on upcoming contests, giveaways and promotions.

For this
Infinity KOSÉ
sample, I mentioned about it right at the top of this post, if you are "lost" among the pictures and sample redemption links. I first got to know about this promotion because I am a fan of
Ju Ann Ng's
Facebook page.
(She's actually a remarkable and sweet lady with a really positive vibe)
Anyway, to cut the long story short, I found out about this sampling activity from her Facebook page feeds, sign up for it and promptly mis-read the deadline and thought I had no hope in getting my hands on it. Turns out, I mis-read it and the actual deadline is at the end of April, not March. I went to Metro Paragon and picked it up and I can assure you, that there's still enough sample tubes left. So, if you haven't redeemed yours, remember to do so :)
WHERE TO REDEEM SAMPLE:
Go over to
KOSÉ Singapore Facebook page
at
http://www.facebook.com/kosesingapore
,
Like
their page as a fan. Next, look for this link that says
INFINITY KOSÉ
, click on it.
Click on the link that says "Participate Now", wait for the page to load and fill in your details. You need to bring a print-out from your email for redemption :)

Why not like my Facebook page at https://www.facebook.com/PuNiaosProductReviews to be informed of latest samples I found, which is duly updated? Also includes updates to contests that I've sourced out for you to join. It will definitely save you the trouble of having to hunt them down :)