WHAT IS IT:
Naruko Tea Tree Oil Out Balancing Serum
THE PRODUCT(S):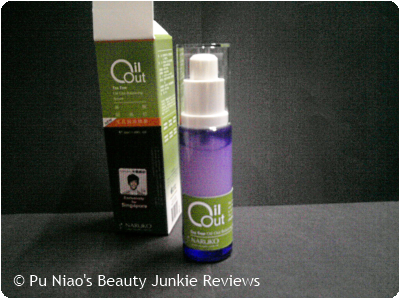 Naruko Tea Tree Oil Out Balancing Serum:
Designed for normal to oily skin,
Naruko Tea Tree Oil Out Balancing Serum
is an an invisible oil absorbing sheet designed to stop the production of excess oil while keeping the skin moisturized. The Balancing Serum forms an invisible barrier to keep oil away and helps skin function normally by immediately increasing the skin's metabolism by absorbing excess oil and moisturizing the skin. It is a refrshing serum that helps to keep away acne and blackheads.
This
Naruko Tea Tree Oil Out Balancing Serum
comes with a pump nozzle, ensuring the product stays hygienic, even if you have to share it with family and friends.
The serum is actually milky-white with a watery serum-based consistency and texture and I love the scent of it.
It gets absorbed instantly and doesn't leave any greasy nor oily feeling and neither does it make my pores feel clogged at all.
VERDICT:
First of all, I cannot stressed how much I love the scent of this
Naruko Tea Tree Oil Out Balancing Serum
, it's just heavenly. And I personally have a soft spot for anything minty, especially if it has Tea Tree in it. And this serum just hit the spot for me. I love how the texture is watery serum-based and it actually comes with a pump nozzle, which ensures that the content inside the bottle doesn't come into contact with germs that easily. And one pump is actually enough for my whole face too.
Personally, I do love moisturizing my face but despite using a facial moisturizer all these years, I always failed to find one that actually works well with my combination/oily skin most times. And yes, it can get really frustrating to have to keep trying different facial moisturizers to keep those unwanted acne and pimples at bay. And one time, I got a little over zealous and used pure Tea Tree Oil on my face, only to result in a breakout of pimples on a really regular basis and those pimples are really stubborn to the point where it cannot decide whether it should fade and go away or just simply ripen.
Until finally less than 2 weeks ago, I finally chanced upon this
Naruko Tea Tree Oil Out Balancing Serum
while browsing at Watsons. Prior to buying and using this serum, I was constantly using facial masks on a nightly basis to help tame my ever stubborn acne and pimple issues and I do realize that it is almost impossible to depend on facial masks alone. But ever since buying this serum from Watsons, I've been using it diligently day and night every day and I am glad to say, I definitely do see a decrease in pimple flares already.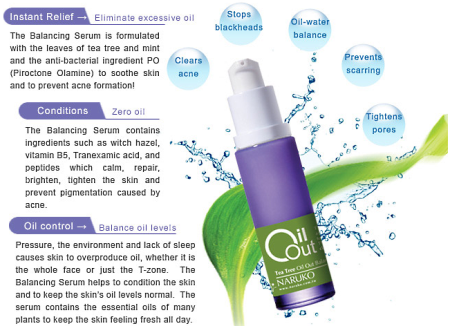 Image Source:
Naruko Singapore
If you are thinking of using this as a anti-acne or anti-pimple serum, I'm afraid to inform you that it doesn't work like that. In fact, this serum should be used as a facial moisturizer. Yes, facial moisturizers need not come in cream-based version, if you do not know. It can come in serum-based, just like this
Naruko Tea Tree Oil Out Balancing Serum
. Using a facial moisturizer or serum actually helps to hydrate your face, preventing your skin from overproducing facial serum, which will in turn leads to acne and pimples. If anyone ever tried to tell you that people with oily skin do not need moisturizing due to the excess sebum, kindly feel free to whack that person on the head and send in a complaint, I mean feedback letter to their respective company they work for, as it definitely looks like someone is working in the wrong industry.
I personally stopped using my previous facial moisturizer in preference to this balancing serum by Naruko and mind you, I have never tried any retail-sized Naruko products before and this is definitely my first purchase on a retail-sized bottle, instead of a sample. As I tend to have stubborn acne and pimple issues as previously mentioned, I immediately felt that this would be a great product to use in place of my old facial moisturizer and damn, am I correct on that. As so far, I can see my blemishes looking a little tamer instead of darker. Acne and pimples aren't that crazy and stubborn now, if not, I can just outright say that I do not have a single acne issue or pimple ripening on my face from the time I started using this until right as of now.
What I like about this balancing serum is that, my pores looks reduced especially around the cheeks area. My blackheads do not look so obvious now, but prior to using this, you can see little black dots on my nose even from a great distance. And that is how scary my face condition used to look like, way before I ever heard of Naruko or even this product. It's not like I've never tried any pore minimizing or reducing serums before, it's just that they promised but never delivers and my only recourse would be via facial masks, which honestly isn't going to do much as our skin ultimately needs daily moisturizing and nourishment.
Don't get me wrong, it's not that facial masks aren't good to use. It's just that, in my own personal opinion, facial masks should be to pamper your skin, whether it's daily or a few times a week. Not to be used in place of actual facial moisturizers, no matter how easy it is. And despite hearing that this balancing serum is good for hormonal acne and pimple issues, I would dare say it's working for my skin on a really good basis. My opinion? Naruko should have this product line out a good decade ago, as it would have helped me to prevent unneeded acne and pimple flares which seems to have a mind of it's own.
VERDICT:
✓✓✓
WHAT I THINK:
Highly recommended, especially from me with stubborn acne and pimple flare issues in which my pimples cannot decided whether it should go away or ripen.
WHERE TO REDEEM SAMPLE:
Didn't really see sample redemption exercise on
Naruko Singapore Facebook page
, however, this is one facial serum I am definitely loving despite not being able to try a sample. In fact, I wish I could kick myself for not going down to Watsons earlier to check it out.
Why not like my Facebook page at https://www.facebook.com/PuNiaosProductReviews to be informed of latest samples I found, which is duly updated? Also includes updates to contests that I've sourced out for you to join. It will definitely save you the trouble of having to hunt them down :)