WHAT IS IT:
Skin79 VIP Gold Collection Super+ BB Cream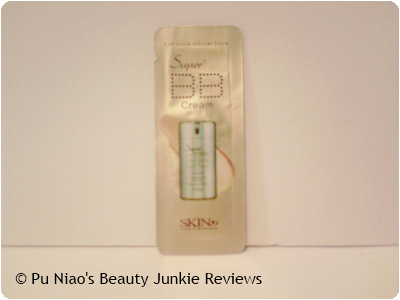 THE PRODUCT(S):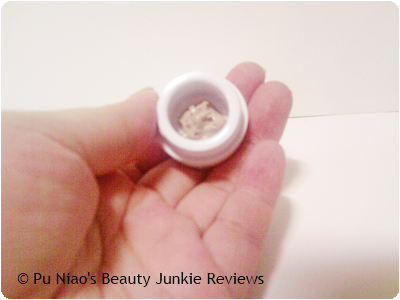 Skin79 Super+ BB Cream VIP Gold Collection:
The ultimate blemish balm, Super BB Cream protects and cares for skin in three separate ways for a flawless complexion that glows with health. Adenosine and Arbutin promote a fairer complexion while reducing existing lines and wrinkles. Gold and caviar extracts nourish skin for a dewy and smooth finish. Natural UV protection deflects UVA and UVB rays to protect skin from premature aging.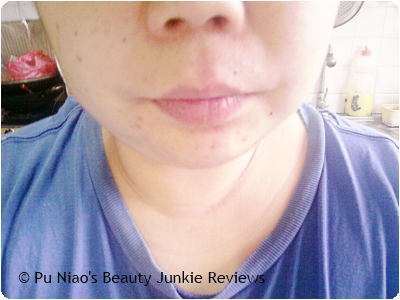 Before applying
Skin79 Super+ BB Cream VIP Gold Collection
.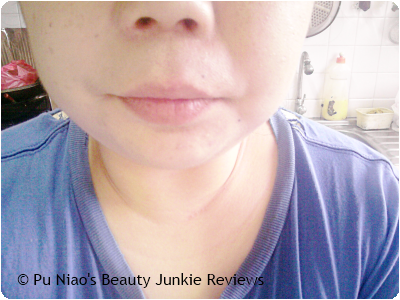 After applying
Skin79 Super+ BB Cream VIP Gold Collection
.
VERDICT:
Firstly, the scent is actually similar to most BB Creams, so I won't go into much detail on it. Despite having sweet almond oil, caviar extract, aloe extract and gold, the scent isn't anywhere close to the above main ingredients mentioned. It's actually typical BB Cream scent, as far as I am able to tell. But at the same time, I think we should be glad that even though there's caviar extract, this BB Cream doesn't hint of any fishy-related smell.
The texture looks thick and creamy, but it actually smooths on pretty well and easily. And because of the close to watery/runny consistency, it is actually easy to apply and spread all over my face. This has medium coverage, so if you are someone who has really light or faint blemish scars, this can actually help to even out the skin tone, which ultimately leaves your blemish scar not that obvious, until someone stands really close to you and look really carefully. As I personally have blemish scars that are already a few years old, it doesn't really help much. However, I still like the fact that when I took a photo for this review, it looks almost non-existent, as if I never had acne nor blemish in my entire life.
This particular series comes in one shade, so you may have to test and see which one suits you better. I previously reviewed the
Skin79 Super Plus BB Triple Functions Cream
and I thought that one would have been more suitable for my face/skin tone. However, I was totally wrong. As compared to the pink one, this
Skin79 VIP Gold Collection Super+ BB Cream
actually works better than the pink one I've reviewed. And get this, the gold one didn't promise to hide any redness on my face anywhere on the product itself, nor the explanation. And yet, it does help to cover up the redness without me having to try too hard.
As I am using a foundation brush to apply this BB Cream on, I found out that I just need roughly 2-3 dabs with the foundation brush to ensure full coverage/application on my face. I would probably need 1 more dab for the jaw and chin area to ensure my face actually looks even. Which is not a hard thing to do, as long as you can find a shade that actually best complement your original skin tone.
As I personally have oily skin, I was rather afraid that when I sweat just a little, the sebum blobs would probably look pretty obvious under the layer of BB Cream on my face. And yet, this product surprised me in this sweat test too! Hours after applying this BB Cream on, I do not see nor feel my skin being clogged, nor do I see it turn shiny and glossy from sebum too. It's like this BB Cream is a second skin on my face, and it actually blended rather well into my skin, adjusting to my original skin tone. Which I am sure by now, most of you are aware that I can look pretty pale as a ghost, whether I want to or not. Hence, looking for a BB Cream that complements my pale face and regular looking neck can be a pain in the butt most times.
And at the same time, I'm not really a big fan of Korean cosmetics or beauty products, so I wasn't expecting this particular series of BB Cream to work any sort of "miracles" for me. And yet it did. And I am definitely impressed with this particular range of BB Cream. And remember how I mentioned that this BB Cream when applied on my skin, actually felt like a second skin? I almost forgot I was wearing BB Cream until I accidentally spilled water down my chin. Yes, that spectacular moment when you cannot decide whether to wipe your mouth/chin with your hand or dab with a napkin to avoid messing up the BB Cream. And I only need to touch up another layer of BB cream once throughout the day.
VERDICT:
✓✓✓
WHAT I THINK:
Finally, I found my skin tone saviour ♥♥♥ Where were you all these years??
WHERE TO REDEEM SAMPLE:
I got this sample from the August edition of Elle magazine. I hope I got that right since I am not a frequent buyer of Elle. I got the August issue because of the free pouch that comes with it xD
And luckily, I have the same BB Cream sample in a slightly larger sample that is more for travel size that was previously from the August edition of Bella Box, so I can continue using this particular BB Cream series for an extra few more days. And yes, I am definitely getting the retail version of this
Skin79 VIP Gold Collection Super+ BB Cream
as fast as I possibly can.
Why not like my Facebook page at https://www.facebook.com/PuNiaosProductReviews to be informed of latest samples I found, which is duly updated? Also includes updates to contests that I've sourced out for you to join. It will definitely save you the trouble of having to hunt them down :)